Disaster! The Casa Rural owner takes us in his car to Cambil, we set of on the walk, and I say to Christine "where are the walking sticks?"
She replies "What walking sticks?".
I say " my walking sticks, the ones you have been using ever since you arrived in Spain".
After a few more moments trying to deny the obvious, Christine has to acknowledge that she has left my walking sticks, the lightest sticks money can buy, at the Casa Rural.
We wait long enough for the Casa Rural owner to get back to Carchelejo, ring him and think we have a deal for him to return with sticks. We wait for 90 minutes and discover he had misunderstood us or we had misunderstood him and he isn't coming back but will post the sticks on to a Hotel of our choosing, sounds complicated. We eventually set of on the walk at about 11 o'clock, I'm in a mega sulk, the only thing that could have been worse would have been me leaving the sticks not Christine.
All this was a bit of a shame really because the weather was perfect and the walk looked very promising. It involved 27 kilometres walking, a 1000 metres climb, went over a pass at 1650 metres (highest point to date), which went next to the Pico Magina which at 2164 metres is the highest peak in Jaen Province and took us through the Sierra Magina Natural Park.
An initial climb up through olive trees along a track (and after a short section along a road), turned into a walk through evergreen oak.
We passed what looked like several old ruined moorish hamlets and a tumble down castle - Castillo de Mata Bejid. This part of Spain was the borderland between Moors and Christians for a couple of centuries and the province of Jean, has more castles per hectare than anywhere else, or so it seems. We had a great lunch by the side of the track: cold jacket potatoes, the remains of the cheese and a fat sweet little cucumber.
We climbed and climbed up the endless track, cutting off a few corners up stoney grass slopes, until we finally got to the pass, Puerto de la Mata, at 1650m. The sun was beating down from a cloudless sky and we both caught the sun. The views of the Sierra Nevadas behind us to the left were unbelievable as the whole range was carpeted with fresh snow, witness to the very cold weather we've had for the last few days.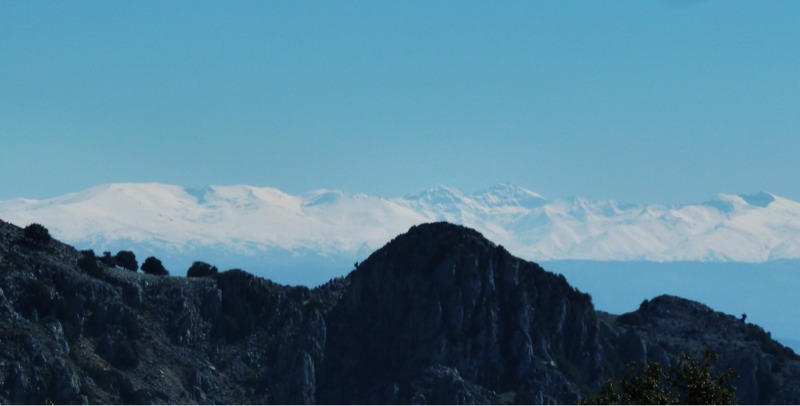 After a flapjack stop (all gone now) we started our descent on what looked like a never ending track, winding ever down but not seeming to get any closer to Torres.
At long last we hit town at 5.30. We were relieved to find the Hotel Jurinea and were welcomed by a kind woman who spoke no word of English but was happy to provide two cold beers, then passed on the message that our host from last night would drive over with the lost sticks tonight. Bingo.
Still no Wi-Fi so the blogs are stacking up. Can get emails but publishing blogs with pictures seems to require more than data roaming bandwidth. Have learnt that Tottenham have got Real Madrid in the next round of Champions League. This is good news as it means that I will definitely get to see the game. As I understand it, I will get to see Spurs in the next round as well, when chances are we will have to dispatch the other Spanish pretender,Barcelona.