The routing of today's walk is, I suspect, driven by administrative necessity. Having established northern variant to the GR7 it somehow has to be joined back up with main route and, and because in Spain everything is done at a regional level, in Andalucia. The simplest way to do this is to send the route down the road and, apart from the first six kilometres, this is exactly what's been done. The road walk was 34 kilometres, making the total distance somewhere near 40. I don't think whoever put the line on the map actually expected anyone to walk it, there are no signs or markings. All this seems a shame as the walking potentially looks great and a bit of effort could have produced a good route.
Anyway having had a great breakfast things started to go wrong. I had devised a GPS route from dodgy maps and the Guide (no-one having published a route for this stretch) and it was just not quite right. The Guide was confusing so it took me an hour to do the first 2 kilometres. If only it had said, "make for the mint condition white Renault 4 stuck on top of the hill", I would have got there in no time. Must be at least 30 years old, not a spot of rust on it and if your interested it's not going anywhere.
The highlight of the whole walk was the Cortijo de las Cuevas, an abandoned village of houses built into the cliff on one side of a stunning little gorge. One house might have been occupied judging by the two blue stripped deck chairs outside it but it's hard to be certain. Busy taking pictures of this amazing place when behind me I became aware, at very close proximity, of the rarest of things, a Spanish dog not barking. He wanted to abandon the village as well and come with me. Following at a distance of about 10 feet he was soon joined by his best mates, two pigs with a very distinct appearance.
Cortijo de las Cuevas
A nice non barking dog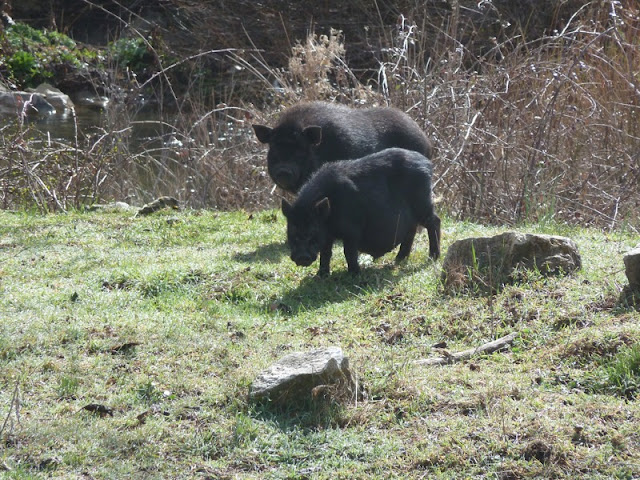 Rare breeds
Actually the pigs gave up after a few minutes but a dog is a friend for life and he was coming. Even when I declined to wade across the raging Rio Zumeta, as recommended by the Guide, and instead climbed up steeply along the side of the gorge to get to the road he followed. Eventually I had to explain that I lived in a flat and that he wouldn't be happy in central London and amazingly not only was this a none barking Spanish dog, he understood English. I felt really bad when he turned and left.
After that I hit the road looking for short cuts and off-road options whenever I could. The best one came about 4 kilometres after a very flash looking but empty Hotel. Following a trail marked on my map, possibly the old road, I went on a 5 kilometre detour before joining the road again. It was a really nice walk, much higher than the road and with great views. I also managed to find a shorter 2 kilometres detour a little bit further on and these variations seem to prove that a better route could be found.
Typical endless stretch of road
Of course the third effort ended in near disaster when I found the gently slopping, wooded and sandy stretch I was crossing actually had deep ravines in it that were incredibly difficult to cross.
Eventually Puebla de Don Fadrique became visible, still some way of, and then on the west a perfectly shaped snow covered mountain, a mini Kilomanjaro, came into view. I might have seen this in the distance yesterday and I'm still trying to work out which one it is. It's a poor picture the sun was in the wrong place but maybe it's enough for Juan to identify it.
Cerro del Calar
Anyway, arrived after 9 hours of virtually non-stop walking and after a couple of beers and a bath the feet feel fine.