Definitely an odd day today, the first day since a week last Saturday that I've been on my own. Christine caught the 7 o'clock bus back to Granada this morning. Feels strange and a bit like I'm starting again, two of you spread the load, and in particular there is now only one person to maintain the motivation. Amongst other things Christine checked my appalling grammar so I'm afraid as far as this blog is concerned it's back to business as usual.
The walk was also a slightly strange one as it involved going to Vadillo de Castril and then walking back again. This is because I decided that the original plan, to walk all the way to Cotos-Rios was just too far and insane. According to the Cicerone guide it would have taken 12.5 hours and there is only just that amount of daylight at the moment. The Hotel owner here in Cazorla (at the Hotel Guadalquiver) will take me to Vadillo de Castril in the morning (for a chunky fee) and then I'll walk onto Cotos-Rios. By the way there is accommodation later in the season at Vadillo de Castril and there is also a fabulous looking Parador Hotel nearby so you could engineer at alternative plan.
Actually the walking does justify a bit more time, it is really excellent in the Sierra Cazorla Natural Park. Sounds a bit odd but the best thing about today was the path itself. It was on a really well preserved trail, built I guess for mules and too small for vehicle access of any sort. Not steep but occasionally clinging to the side of some very impressive cliffs it contoured along before crossing a couple of passes and then heading down to Vadillo de Castril.
Ancient mule paths out from Cazorla
On the way up from Cazorla you pass the Ermita de la Virgen de la Cabeza, which overlooks the town from the north, and further on you get great views down on yet another Moorish Castle, the Castillo de la Ireula.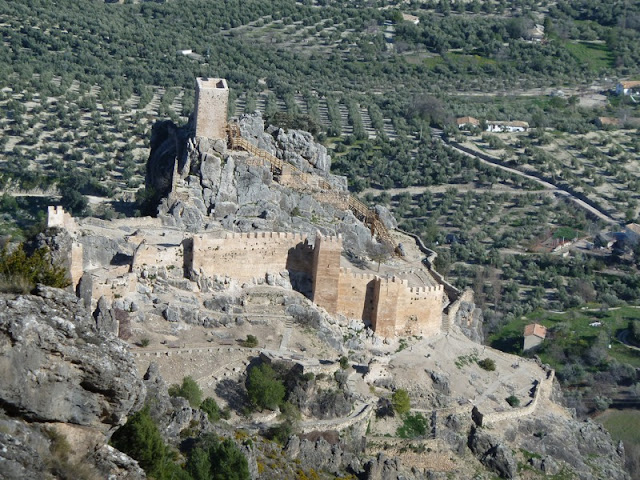 Looking down on the Castillo de la Ireula
The weather was good, a lot colder than the last two days but none of forecast rain and the views were great. By and large you're high up and looking north-west down on a huge expanse of olive trees. Apart from olive trees, the walk reminded me a little bit of the Simien Mountains which also sit high above a plain. At the highest pass, which is 1369 metres, you can look south to snow flecked mountains of the Lomos de Los Castellones.
View across the see of olive trees
Turning around and going back again is definitely not in the spirit of through walking and I was still 45 minutes of Vadillo de Castril when decided that I had had enough. By the time I got back to Cazorla I had walked for 8 hours, walked 26 kilometres and climbed 1200 metres so duty done I think.