So I still don't know what Gite d'Etape is. It can be a room with bunks where you have to find the key holder to get access (the miserable Gite d'Etape) or it can be like last night where the only inconvenience is that you have to share a bath room (the nice Gite d'Etape). Last night also served good food, four course meal and as much wine as the Frenchmen sat next to me could pour into my glass (well I did keep emptying it). Whole thing including breakfast, 35 euros, good value or what.
Angles also had an all purpose Boulangerie open at 8 on a Monday. Was able to dump my 2 day old baguette, which was now so hard it was dangerous, get a new one and a lump of Pate de Campagne for 2 euros. Traditional France is seriously endangered but reports of its extinction are exaggerated.
Angles, Salvetat-sur-Agout (half along today's walk) and Fraisse-sur-Agout are similar large villages, small towns. The buildings are clad with slate which gives them a bit of a run town look but all of them are surrounded by little holiday bungalows and I suspect it gets busy here in the summer. As well as the countryside the attraction is probably the swimming and fishing in the rivers and lakes/reservoirs.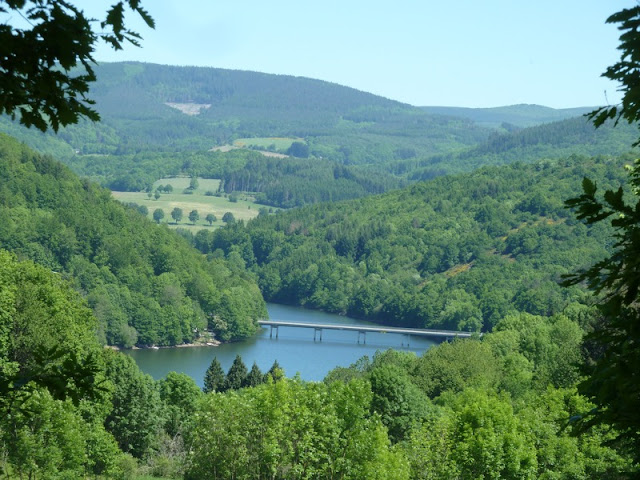 Lac de la Raviege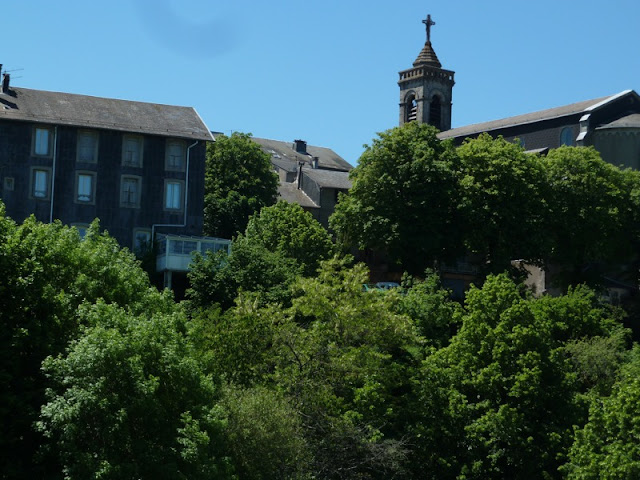 La Salvetat-sur-Agout
The weather has also got better again, in fact a perfect day, sunny, clear but not too hot.
The walk was very similar to yesterday. Mixed wooded countryside, gentle climbs and descents, and periodically opening up with hay meadows. Just a little bit more road walking than I've got used to but mainly quiet country lanes with a virtual absence of traffic.
Did get one big view back to the Pic Noire, the one with the rocket on top, and, as the mountain slopped away you could also see the Pyrenees in the background. I keep thinking I seen the last of them and there they are again, seven days walking since I left them, they must be stalking me.
Talking of stalkers, loads of walkers coming the other way along the St James Way, must have seen about twenty this morning. One of them even had the same bag as me. The woman at the Gite wanted to know if I wanted my card stamped - not me matey, not unless you do E4 stamps.
A St James Way Walker
So another lovely walk, particularly if you like the pastoral forest mix. Pretty sure I saw a field of orchids but could be wrong but certainly had more of my share of lush meadows full of flowers.
Orchids
Hay Meadow