First full day in France, really tough day's walking but satisfying made all the more so by some wonderful accommodation in Mantet.
Left Planes at nine and walking with Peter Williams. Weather was excellent, sunny and fresh but the forecast for the rest of the day was poor. First little freshener was a gentle 400 metre climb up through the trees and then down into the valley on the other side of a ridge. The river in the valley was in full flow and we had to walk a long up the valley before we could cross it and then come back down again on the other side.
You then start climbing up to the biggest pass of the day, the Col Mitja, and at 2367 metres the highest point I've got to on the E4 so far. Took nearly two hours to climb to the top and just as we going over the top it started to rain, not heavily but enough to make you wet. There is a refuge at the bottom of the valley on the other side which, in a couple of weeks time is open, and would have been a good place to stop but not yet an option.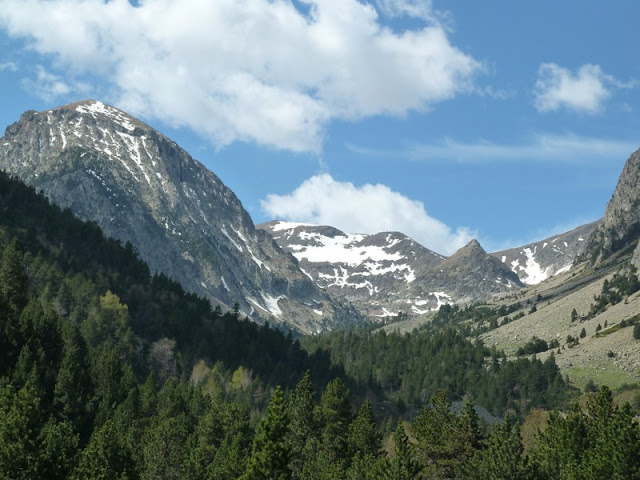 Serrat de la Xemeneis
Instead we have to climb another pass and make for Mantet. The signs at the refuge at 3. 30 tell us we still have 4 hours walking to go and it's still raining on and off and snowing at the top. Climbing up we saw a couple of isards a sort of wild mountain goat, running up the wide of the mountain. At about 5.30 we make it to Col de Pal at 2294 metres and the cloud is now so dense that finding the trail is a real problem. Walking across open ground, across snow and then through trees we suddenly find ourselves in a full blown storm, thunder and lightening with snow mixed in with the driving rain. We lose the trail and just for a few minutes it's really unpleasant. Both of us have waterproofs on but not a lot in terms of insulation and we were quickly starting to get cold. We manage the figure out where the trail should be from the GPS, not where we thought it was and head in that direction. After about 10 minutes see the white and red waymarks and almost at the same time the storm dies down and we can see Mantet.
Col du Pal
A long way down
Takes 90 minutes to work our way down the valley and by the time we arrived the Gite d'Etape we had walked 28 kilometres and climbed over 1800 metres. Big day, particularly a big first day for Peter.
Belgian couple running the Gite, great food and great accommodation. Just what was needed after such a walk.