As well as huge numbers of bars, Spain also has huge numbers of local banks with ATM machines. France doesn't and French people seem to like cash rather than cards. So yesterday I was running out of food today I was running out of cash. When you walking everywhere, to a timetable, a deviation to a cash machine is a bit of a pain but no choice as Duilhac-sous-Peyrepertuse is a really small place (no ATMs) and I'm staying in a bed and breakfast (cash).
The extra destination was St Paul de Fenouilledes and going there meant dropping down into the valley again right in the heat of the day, probably walking an extra 6 kilometres, and this broke the magic of the walk.
Like yesterday the weather was perfect but today I was perhaps slightly higher, the countryside a bit more remote and the scenery was even better.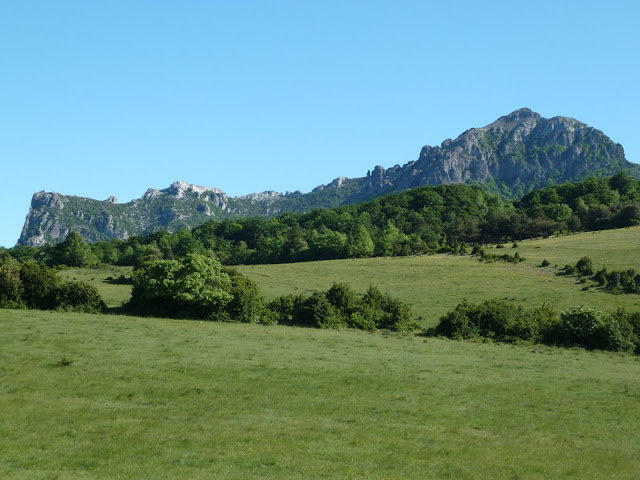 Roc de Chalabre
Apart from the visit to St Paul, I didn't go into any villages and today I was walking east from rather west so getting closer to Budapest rather than further away.
Again it was up from the bottom of valley and then high up along the ridge. Sometimes you were working through tunnels formed by the trees and sometimes you were walking across open meadows. Everything, apart from the flowers, was wonderfully green. Lots of wild thyme in full flower. For the fourth and what must be the last day Canigou, the mountain I climbed just before the storm five days ago, dominated the southern skyline.
Old Green Lane
Heather
The number of walkers is increasing, including some people carrying packs, and I was able to share the top of the Roc Paradet with four French walkers. They were walkers but I suspect a car was nearby.
View from Roc Paradet
The walk into St Paul slightly knocked me off my stride and what had been a really great walk started to become hard work. There are two options I think for the GR 36 around here and as a consequence I didn't really know how much further I had to go. Was also getting a bit short of water. As it was it was 5.30 before I saw the famous Cathar castle, the Chateau Peyrepertuse which sits on top of cliff above Duilhac-sous-Peyrepertuse. By the time I got there I had walked 32 kilometres and climbed 1400 metres.
It's half a hour down a road to the village, I hadn't booked anything but knew there was a bed and breakfast which I found immediately. Couldn't find the promised restaurant, the villages have very little of anything (just like the UK), but saw a van selling Pizzas. Had to wait an hour for mine to be cooked so they are clearly doing OK but it was a big one and it was very good.
Have a big walk tomorrow, can't get away very early and I know it's a crime but I think I'm going to have to miss out on a visit to the Chateau Peyrepertuse. I feel bad because it is a Cathar highlight. Based on the last few days though I'm sure I'll be back.
Chateau Peyrepertuse