Not a lot of sparkle shown by the management of the Hotel Sapin in Bouvante-le-Bas but the accommodation was cheap if not necessarily cheerful. Great big hotel in a tiny village, no customers, I guess it's hard to smile, could be ages before someone else comes wandering alone the E4.
The basic summary of today's walk is: steep climb up through trees; walk across the top of the plateau through trees; incredibly steep descent from the plateau down into a gorge, mainly through trees; along the base of the plateau to Pont-en-Royans.
The scenery is really dramatic but for much of time the trees were so dense that you couldn't see anything, just little snippets, and it wasn't until the last third of that you got some real views.
The hard climbing work was done at the beginning and after walking an hour I had already gone up 600 metres. Climbing up the side of Val Sainte Marie you could occasionally see the cliffs on the other side or the longer views out into the Isere valley.
Climbing up the side of Valle Sainte Marie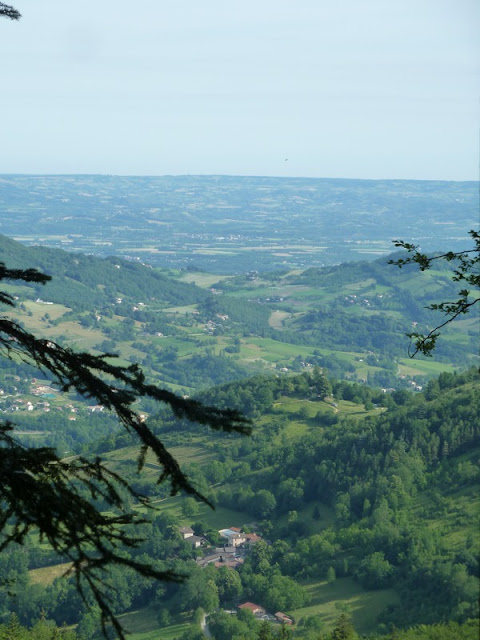 Looking west to the Rhone Valley
Once on the top it was pretty solid forest trails including a really ugly stretch along a newly bashed out forest road, presumably being prepared to extract some of the timber.
Horrible Forest Road on the way Col de la Machine
Having passed the hotel at Col de la Machine, and resigned myself to a limited return on what was now 1,000 metres of climb, things started to open up. Dropping below the Col de la Machine is a gorge, a slice out of the limestone plateau called on the map, Rochers de Lavel. Firstly you get to see it, a sort of amphitheater with cliffs all around some of which must have been 600 metres and then, if your not careful, you get the chance to walk down it.
It was only when I got to the bottom that I realised that the way I had come down was a variant, the scary variant, and I could have stayed in trees on the top. I'm sure I got to see more this way but it was very steep.
Looking down to Laval
The steep GR9 variant down to Laval
Anyway I wasn't going to climb back up again to try out the other variant and carried on along the base of the plateau to Pont-en-Royans. On the way you got to look into another of these incredible limestone amphitheatres.
Pont-en-Royans is apparently quite a famous beauty spot and below is the classic photograph everyone takes showing the houses built on the cliff above the river. Staying at the very reasonably priced Hotel Royan and looking forward to another big climb up to the top again tomorrow morning.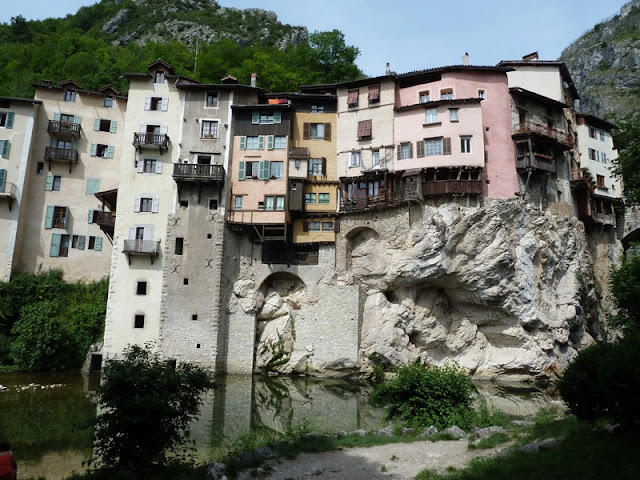 Pont-en-Royan