Perfect day, nice and short after yesterday's mega walk, a dry day and great countryside. There are a lot of trees in France and it sometimes feels like you're in a maze unable to see anything and loosing all sense of direction. It gets particularly frustrating when your walking through scrubby evergreen oak trees across fairly even countryside when the occasional view isn't much to write home about. Had a lot of that over the last few days but I think I have now broken out into some great scenery.
Pouring with rain this morning and because the walk was only 16 kilometres decided to hang around as long as possible to see if the weather changed. It did from rain to cloudy, windy and fresh.
Dieulefit is a nice town, had two hotels and lots of Chambre d'hotes. The little hotel I wanted to stay at, near the church in the centre, was fully booked forcing a long walk out of town. Anyway, armed with an enormous sandwich I was on the GR9 by 12 and there was even a sign that referenced the E4.
Hen's teeth - an E4 sign
Essentially today's walk took me up out of the one valley, over a fairly shallow pass, and then down again into another valley. The valley's are running east to west, down to the Rhone valley, and I'm heading north. Climbing over the pass today meant going up 400 metres to 800 metres but the climbs will get a bit more substantial over then next few days. Although there was still a lot of trees, the topography is now more varied, the walk was more open and the views were much better than I have had over last few days.
How green is my valley
Walked past a stunning romanesque church located right on top of a hill. Churches, fortified houses, castles and the remains of castles were scattered about the countryside.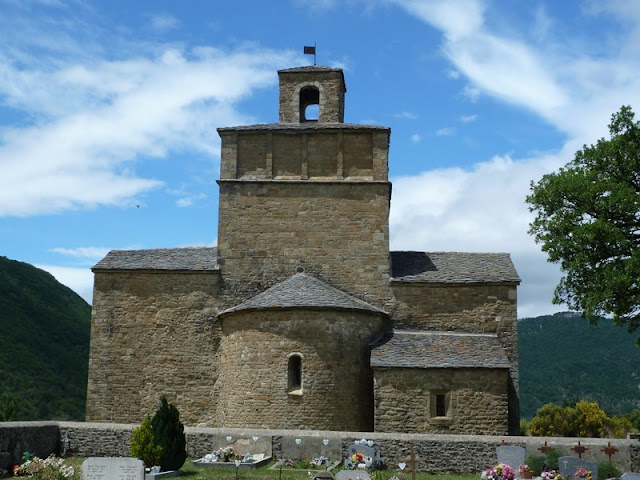 Eglise de Comps
By the time I was heading down into the next valley the weather had improved, and although the clouds were still hanging over the tops of the mountains you could start to see the sort of countryside I'll be going trough over the next few days. Looks great.
Dropping down to Bourdeaux
Bourdeaux is a bigger village than I had expected and with the remains of what must have been an enormous castle towering above it must have had an even more significant past. The picture below only captures a part of the ruin. It was an important protestant centre until the Wars of Religion an interestingly became a focal point for Methodism in the 19th century.
Castle ruins above Bourdeaux