Being playing chess against my IPad and frankly it's a lot better than me. The fact that it doesn't need time to think is so unnerving, it just seems to pile on the problems and every time you solve one you seem to create two more.
That's what's been happening with the walk today. What was supposed to be a short and fairly dull sort of walk across a feature called the Rheindelta turned out to be a real pain and the day just got worse.
It's really raining, the worst day's weather so far by far, even worse than the day I came down from Canigou, or the day in the Gorge d'Ardeche. Was drizzling when I set of from Rhieneck and then it started to really pour down and rained all the way to Bregenz. Stopped for a few minutes just as I was arriving and then started again. Heavy rain interspersed with heavier thunder rain. Weather forcast is not good for at least three days.
The rain really started as I crossed the border. There is a dedicated covered bridge for the walk and the cycle trail and the border is marked in the middle. I hung around under cover for a bit hoping that the rain would ease. A light came on the video camera at the end of the bridge which felt a bit sinister so when the thunder rain eased to heavy rain I moved off.
The border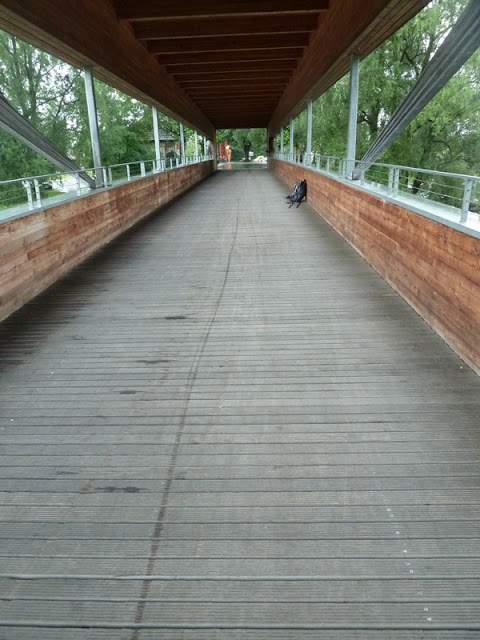 Border bridge
The trail basically followed the "coastline" and then cut inland to cross a huge drain which has clearly been built to reclaim the delta. Crossing the drain at Fusbach you're then invited to follow the coast around again but I declined the invitation and took the direct route through the suburb of Hard (I kid you not, there is another smaller suburb called Rain). It was a miserable walk redeemed only by the amazing posters for the Wolford outlet shop.
Bregenz by the way is quite a big place. Last time I came here it was by train and it's a lot bigger on foot. It has an amazing outdoor opera house which features huge sets that are floated on the lake. The rain actually stopped for a few minutes, long enough to let me have a look at the current offering - it's a production of Andre Chenier.
Open air opera house
Having tried two hotels, including the Ibis, and found them fully booked I started to worry. I went to Tourist Information and after a search on their system they were able to confirm that things were pretty choker. They started exploring options in the suburbs (including Hard but not Rain) and I started to worry that I could be making life difficult for myself for tomorrow. I suggested they try looking for a two person room and sure enough there was a place. I think the young lady who was doing the search was getting a bit fed up at this point so I didn't press too hard on the details, also my damp hat was smelling which made me feel a bit self conscious.
I then did one sensible thing but failed to do two others. I went and bought a map from a bookshop. My request for a map caused a lot of interest and in particular they tried to find a reference to the E4 long-distance walk on the Internet. My blog came up and I was able to show them what I was doing, they were very impressed.
The two things I failed to do was buy some food and get some more cash. The Gasthof I'm staying at doesn't do food, is way out of town, doesn't accept cards and doesn't have Internet. The slight upside is that I hadn't got around to eating my lunch and there was enough to stop me starving. The Gasthof also turned out to be way out of town in the right direction.
So what to do about tomorrow. Haven't booked anything and after today's experience that might not be sensible. The weather forcast for tomorrow is just as bad. If I was in a nice place the obvious thing would be to hunker down, but I'm not, I'm staying in a dump.
Without access to the internet, booking is a bit of a challenge so I sent Christine a text, fortunately she was about and she sorted it all out. I have a place in a Gasthof in Lingenau. Looks like I'm walking tomorrow.
As well as getting humiliated at chess by my IPad I'm using it to catch up on my reading. I've just re-read Mill on the Floss by George Eliot. Given the books ending, and the sound of rain hammering against the sky-light in the room I'm staying in, I'm glad I'm currently on higher ground.