Really good day's walking, definitely the best so far; great countryside away from the olive and almond trees, didn't get lost, and even found somewhere for lunch.
Started well. After three days we had our first breakfast: two cafe con leches each and huge quantities of bruschetta. After her caffeine shot Christine was full of energy and raring to go.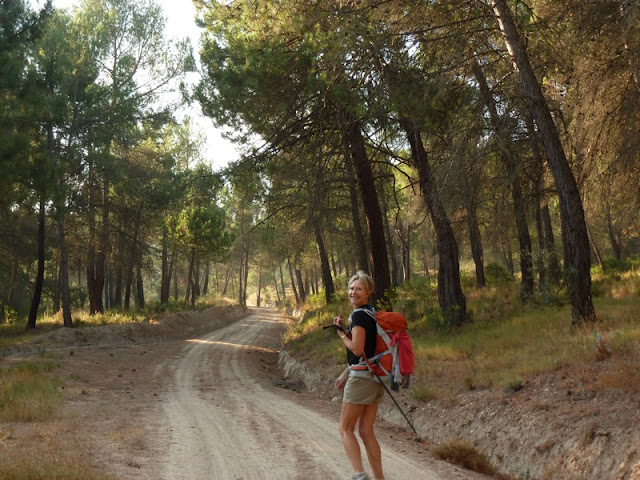 Leaving Jayena
After a couple of kilometres walking along a road in the early morning sun it was into woodland along a completely empty forest trail. For once we didn't see a vehicle all day, in fact apart from the lunch stop and the last couple of kilometres we didn't see anyone all day.
We were walking through woodland but it was natural Corsican pine, very open with lots of big views all day. The GR7 had kept to the north of the Alimijara y Alhama Natural Park but today dived right into it, and once we had climbed above the plain the scenery was excellent.
After about three hours the countryside opened up completely with the green pines showing up strongly against recently turned soil. The pine trees look fresh, almost spring like, and are a striking contrast to the autumn colours everywhere else.
Approaching Meson Los Prados
After 17 kilometres you reach a main road and the cafe restaurant Meson los Prados, perfectly positioned for a lunch stop. Excellent food.
Then the afternoon. After a short walk along the road which meandered around the top of a valley, we plunged into a gorge which carried on, for about 12 kilometres, nearly all the way to Albunuelas. This was a lovely walk, gently down hill all the way and surrounded by the wonderful pine trees, rust coloured cliffs above and a dry river bed below. The first part of the path was a scramble through overgrown scrub, criss-crossing the dry stream bed; then we hit a more substantial track. Christine decided to walk in the stream bed some of the time.
In the gorge down to Albunuelas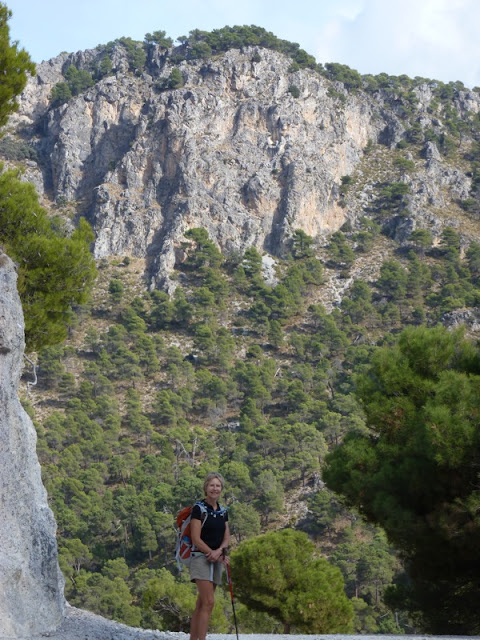 Just outside our final destination we were joined by a party of Spanish schoolchildren who had been working at an activity centre in the gorge.
Albunuelas is a lovely old moorish village, not destroyed by the earthquake like some others. We are staying in La Casa Azul, run by a lovely retired English couple and were greeted with a cup of PG Tips: perfect.