Given the tough walks ahead it seemed to make sense for Christine to have a rest day today and for me to get to Alcala la Real as quickly as possible. Early breakfast and away. At the last minute she decided to get out of bed and join me so breakfast turned in a slightly more lavish affair than I had planned.
You get much nicer views of Priego de Cordoba leaving it than arriving, a really nice place.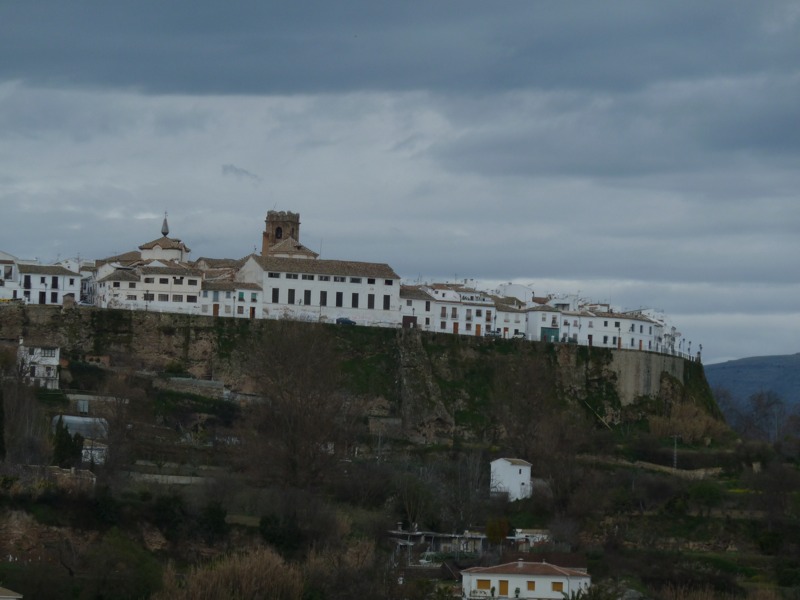 To be honest this is a bit of an "A" to "B" walk - not much to see, other than more olive trees, and just a question of getting there. It seems like the Spanish have the same view and the way marking was poor to non existent and if it wasn't for a good track on my GPS I would have go totally lost.
One thing without Christine, I was able to get totally Ipoded up and today chose a country and western theme, Emmy Lou Harris, followed by Dixie Chicks with Gram Parsons thrown in as I descended into Alcala la Real.
A fast walk, a mix of small country roads, tracks through fields of olive trees, and a few rougher stretches, I was able to cover the 35 kilometres in about 8 hours (despite getting lost, as usual, coming out of town at the start).
Christine of course, didn't in the end have a rest day at all but set off and a couple of hours after me along the same route, without map or GPS. She somehow managed to get to Amedinilla and then got a bus.
Still more olive trees to come but the scenery looks like it's going to get dramatically better. Although pouring with rain as I entered Alcala la Real there were some great views across to the snow covered Sierras.
We're staying at the Toropalma Hotel and it's all mod cons plus menu gastronomic.