Christine here. John has just discovered that the blog he thought he posted from the bar in hostel Rafi, Priego, disappeared into the ether so I have offered to do it while he sulks.
We started off after breakfast, John with GPS in hand, and marched uphill past orange tree-lined streets and a wonderful anis factory (lush smells).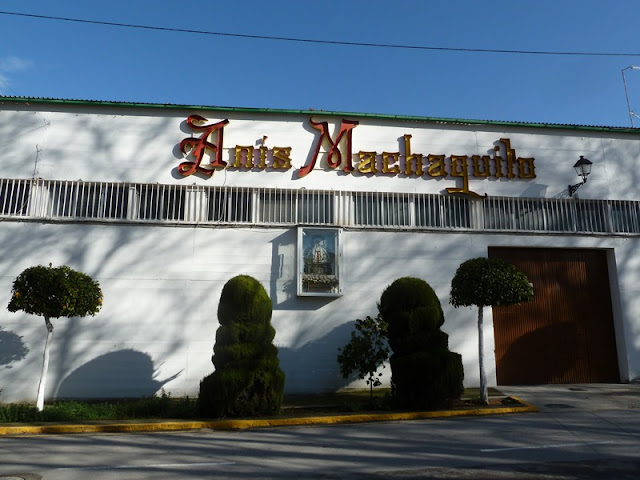 Anis factory in Rute
We then left town and took the wrong path, ending up on a road instead of a path high under the ridge.
Climbing up out of Rute
I decided we should stop for coffee in a roadside cafe at Palomares. Suitably caffeined up we took off uphill through the olives and sticky mud until we eventually hit the right path, which was delightful - through pine and holm oak, with buzzards circling above. We stopped briefly to demolish the remains of the Christmas cake. Then we got lost, and shortly after it started to rain and I got encircled by 3 dogs. Fortunately they had no cojones ( spelling confirmed with barman).
Broom everywhere
The rest of the walk was a plod in the rain on tarmac and my feet were sore when we arrived at Hostel Rafi in Priego de Cordoba, a lovely little provincial town with a Moorish centre and some fabulous Rococo churches, all of which were sadly locked.
We were the only ones at dinner: a hearty affair of grilled red peppers, oxtail stew then quince jelly with cream cheese, all washed down with Rioja. Felt quite good after that!
John by the way is looking very fit and well, he has a tan and has lost pounds round his middle. His walking clothes are filthy and he could be mistaken for a tramp were it not for the iPod and gps. There's a small crack opening up in his right Inov8 shoe which is giving him sleepless nights.