Bit of adventure today. To be honest it's a good job Christine arrives tonight and not last night, not sure if she would have appreciated today's walk as an introduction.
Started ominously, the rain was pouring down. The hotel didn't do breakfast, in fact it was a just leave your key in the door and go hotel. It was 8 o'clock and all I had with me was an apple, a big apple, but an apple non the less.
It did stop raining after about fifteen minutes but that was when the first part of the "adventure" started. The walk to the first destination, Cuevas Bajas, basically involved going along the side of a river which in normal circumstances is dry - at the moment it's in full flood. Worse still there was a series of lateral streams draining into the main river which were also in full flood. The sides of these streams were incredibly steep but had to be crossed, and eventually the inevitable happened, the soft soil on the bank gave way and I slid down to bottom collecting vast quantities of mud and soil as I went.
The last picture is the bank I slide down, trust me it's a least 15 feet deep.
Arrived at Cuevas Bajas, not a big place, and rebuilt my stocks of chocolate, bananas and some very expensive dried apricots. I was covered in mud so did well to get anything. Cuevas Bajas has some lovely houses suggesting a wealthy past.
Amazingly it was now sunny and I was making great progress to Rute, which for some reason didn't seem so far away. There is an option of not going to Cuevas de San Marcos and taking a more direct path, no choice as far as I was concerned.
Having crossed the bridge into the village of Vadofresno (leaving the province of Malaga and entering the province of Cordoba) the skies opened again, didn't rain for long but very fierce and water everywhere.
Just when I needed the signs they disappeared. There were three route options. The first one seemed to take you back towards Vadofresno. The second one took you down a gulley and then along the side of a cliff next to the river. I could see, however, that part of this route had been washed away. The third took you up on top of the cliff and through the olive trees. My GPS was telling to take the second route but given it's partial none existence I took the third. It was a nightmare, the mud was just incredible, not only was I sinking in it to my ankles, it was sticking to my feet. It then started to rain again. I was also having to negotiate the same sort of deep lateral streams that confronted me in the morning. I guess it took about an hour to cover about half a kilometre but when I found a tarmac road with a GR sign on it, it was a great relief.
The rest of the walk was uneventful although the countryside, still full of olive trees, is getting more attractive. The route took me high above the huge Embalse de Iznajar, a reservoir but pretty nonetheless.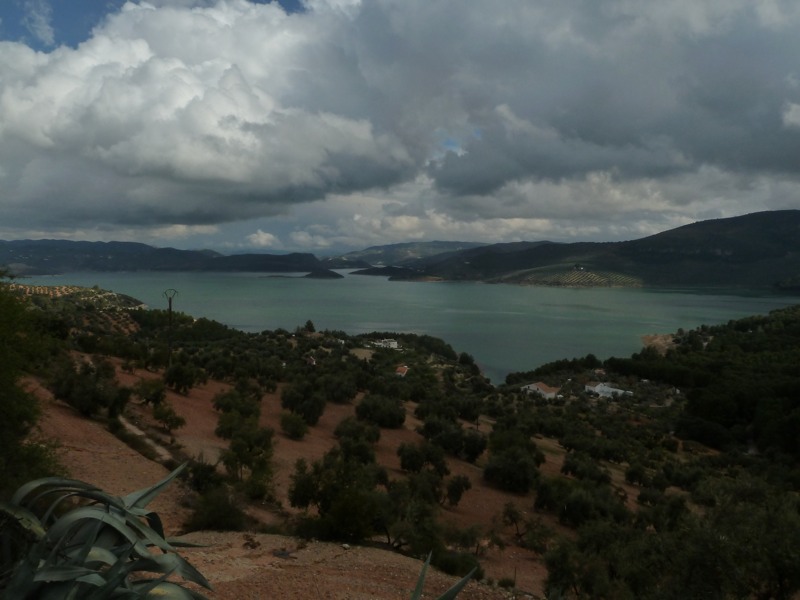 Arrived at the Hotel el Mirador at about 5 o'clock, 30 kilometres and some obstacles in 9 hours, so in the end not so bad. Trying to clean up a bit but the room is now a bit muddy I'm afraid, hair dryer flat out in an effort to dry my shoes.