Have now been trekking for four weeks and although I didn't really expect it, today was one of the best walks. There is no English language guide to the walk and my expectations, based on staring at Google Earth, were not high. I was expecting a long road walk up a valley and then back down again. Well it was a lot better than that.
It was a long walk, and by the time I got to the Hotel, which is 4 kilometres beyond El Sabinar, I think I've walked about 38 kilometres. It was also cold, I'm still well over 1,000 metres above sea level, and it was a fleece walk all the way.
Looking back to Puebla de Don Fadrique
The first part of the walk took me out of Canada de La Cruz, along a very quiet road, and up between the Sierra de Moratalla to the south east and the Sierra de Taibilla. The Sierra de Moratalla have the highest peaks in Murcia at just over 2,000 metres. After a steady climb through pine the road descended and then, after about 8 kilometres, turned into a nice forest track.
I was looking out for the Sanctuario de la Virgin de la Rogativa, the site of one of several local Virgin miracles, and although it was a bit dull it did signal the start of a really wonderful stretch. Essentially a sandstone gorge which went on, I guess, for 8 or 9 kilometres, the cliffs on each side, although not enormous, had just about every colour of sandstone imaginable.
Stunning Sandstone Cliffs
Gorge before El Sabinar
After the gorge the walk went up around the Cerro de Castillar through some really high fields of spring barley and lavender. Obviously to early to see them at there best. There was also a lot of wonderful trees a sort of yew tree or something similar.
It was then through the village of Calar de la Santa and onto into much more open countryside, across a high level plain, in the middle of which sits El Sabinar. All a bit cold and bleak but great long views. I didn't quite know where the hotel was so walked down the road south of El Sabinar rather along the trail which ran parallel to it. Looks a good trail and will be able to get on it again really easily when I set off tomorrow. By the way the way marks are pretty good and the GPS trail I found on Wikilocs is on the nail and takes me all the way through Murcia.
Plain above El Sabinar
Saw a very interesting caterpillar phenomena today. Basically long lines of caterpillars following in a trail nose to arse. Now if they weren't caterpillars this could be regarded as strange behaviour. I don't now how the caterpillars go about choosing their leader but he/she was definitely the pick of the bunch. In the interest of science I temporarily removed the lead caterpillar and I can report that chaos set in with the followers just bunching up into a heap. Amazing.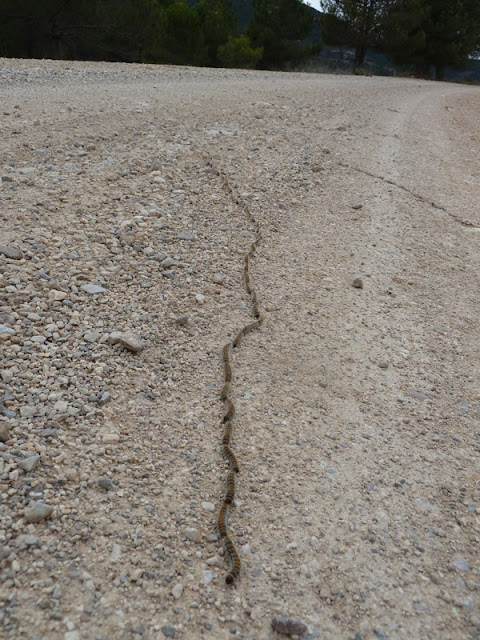 Pine tree eating catapillars
The hotel I'm staying at, the Casa Pernias, is also amazing, extremely spacious,very comfortable and very friendly. I guess you would describe it as a boutique hotel, so lucky me. Full details can be found via the accommodation tab on the home page.