Seems like a crime not spend more time in Ronda, particularly after such a big day yesterday, but I'm on a schedule and if the schedule says go you have got to go. Having said that today was a short 22 kilometre walk and, given that it was raining, I didn't leave Ronda until nearly 10.
Apart from being short this walk, I'm afraid, was a poor one. The route is really difficult to find coming out of Ronda. I saw one sign in the advertised place but after that it all went wrong. My own GPS trail was definitely incorrect and in the end I just made it up.
After a sandwich in the rain at Arriate I found the sign which tells you 8 hours to Serrato (near where I'm staying) which would have had me arriving at 8 in evening. I knew it must be wrong. It was then a trudge up the hill, past a series of pig farms, across a railway line and then onto a nice forest trail. This didn't last long and after about 30 minutes your on a road again and this time a busy one. This went on for about 6 kilometres although occasionally the track ran parallel to the road rather than actually on it.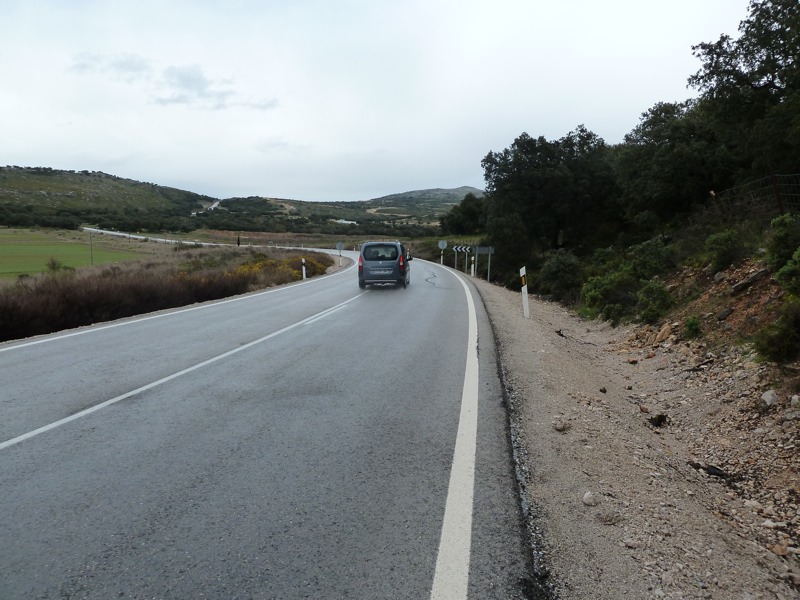 Sorry to moan about this but it's poor. After about three kilometres there was a brand new dry stone being built about 20 metres back from the road, this went on for about 2 kilometres until you got to the gateway for a new golf course. Unfortunately you couldn't get access to strip between the wall and the road because it was fenced of.
So I didn't hang around admiring the view and when I eventually got to leave the road it was only half a hour before I got to my destination. Cuevas del Becerro is just of GR7/E4 (there is not accommodation at Serrato the next place along) and I had booked a room at the Bar Alfredo. Unfortunately the landlord was asleep and I couldn't get into my room. All I could do was roam the streets of Cuevas del Becerro looking lost and fed-up and intimidating the locals.
Then the sun came out and the carnival started. Not sure what it was for, hopefully Juan can let me know, but some of the costumes were very good. Particularly impressed with the pig slaughtering . The pigs (young men in costumes I should stress) arrived in an open trailer behind a Land Rover (generally being bashed about on the way), were roughly manhandled onto a table and then had their throats cut. Blood everywhere and in front of the children. Wouldn't get it at the gymkhana.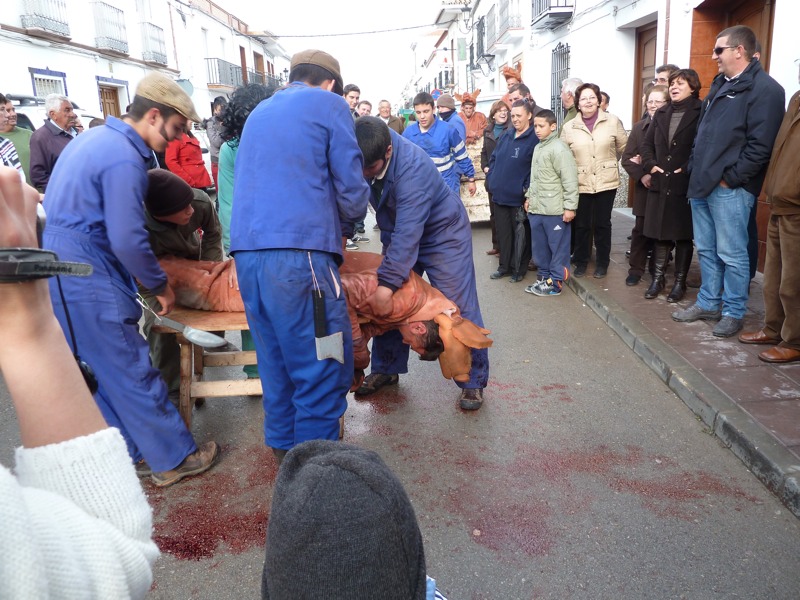 Thought the flamenco dancer was excellent and wasn't it nice of Elton John to turn up dressed at Postman Pat, shows he still has the common touch.
The carnival started in a fairly chaotic way outside the small local town hall which also housed the public library. Next door was the Policia Local and opposite the largest bar in town (lots of small bars). Carnival goers meandered from one building to the other.
Following the carnival as it headed towards the Bar Alfredo, I was reminded again how densely packed these Spanish towns are compared to what I'm used to. Trailing the carnival I was running through a gauntlet of houses were elderly woman, mostly at ground floor level, were somehow sitting in their respective windows and sharing with each other comments on the costumes. I got the impression that they thought my effort to look like a ghostbuster was a poor one.
So a bad walk with a happy ending finished of with a nice dinner in the bar watching the football. All the drinkers were men, and apart from two policeman, recovering from high intensity carnival patrol, there was no one under sixty.
By the way the way thanks for all the comments and please keep them coming. If they don't get published straight away it is because I don't have internet connection at the stopping place I stop, don't have it tonight for example. I have tried publishing via my IPhone, but it is very hit and miss, and expensive. Please don't be put off.