Today was a brilliant walk but a series of minor planning cock-ups combined to make it a bit more exciting than I had intended. Had hoped stay at the Olive Tree in El Chorro, which looks really nice, but didn't quite make it.
My itinerary says that 26 kilometres for today's walk, a relatively easy 16 miles. This is a bit tedious but because I went away from the trail yesterday for accommodation, I didn't work out until into the walk today that yesterday's walk was shorter and today's longer than I had realised. Because I thought it was a short walk I had a leisurely start (nearly 10) and was behind all day. When I got to El Chorro (at about 7.15) it was getting dark and I then discovered the Olive Tree was four more kilometres further on so opted to stay on a campsite in town which has what they call bungalows (I would call them big garden sheds). Having got a big garden shed, which sleeps eight people in bunk beds, I had a very nice bath, I then worked out that this is a campsite and they assume people bring their own bedding. Fortunately it's quite warm, 300 metres lower than last night, and I had eight pillows which I sort of weaved around me as insulation .
Anyway enough of the cock-ups what about the walk. Well it was really good. I'm now out of cattle country and into olive oil country (plus other things) which means no fences and the route essentially follows trails used to work the land. Much better on my feet.
The route takes you directly east across two broad valleys, finishing at El Chorro which is dramatically set at the bottom of a gorge.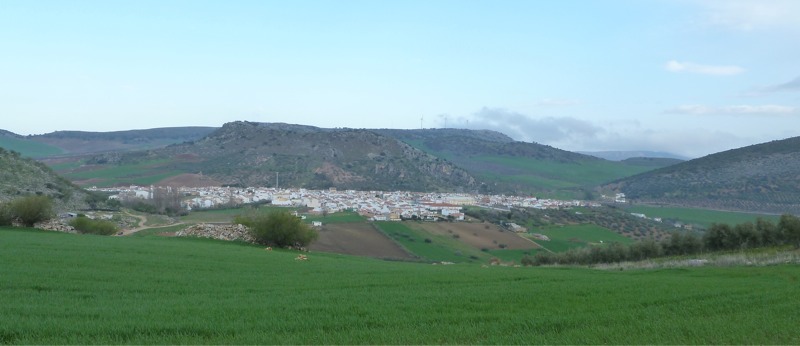 The countryside is big and open, not easy to capture in pictures, and the light was not very good. The first picture is looking back to Cuevas del Becerro and the second one, from same place looking forward to the ridge of the first valley, about eight kilometres away. The peak on the left is the Cerro del Escribano which is 950 metres high.
Crossed the ridge from the first valley at about 12.30 and a sign said that Ardales, the town at the bottom of the next valley was still three hours away. All the signs on this part of the walk seem to overstate the time needed and I got there in two. Ardales must be carbon free, it had huge wind turbines whirring above it and a massive solar panel farm alongside it. It also has a working roman bridge which I crossed to get into town. A nice looking town, and another one like Jimena de la Frontera clambering up a rock.
As there was no dinner at the Olive Tree I stopped for lunch in a bar. The football from last night was on and I hung around hoping to see the Spurs game.
I knew it was about 13 kilometres to El Chorro which I figured I could do in 2 and half hours so was slightly taken aback when I saw a sign that said 6. It was a great walk, the weather and the light had got better all day, but it did go on a bit. It took me about 3 and half hours.
El Chorro sits at the bottom of a gorge through which runs the Rio Gaudalhorce. On top of the cliffs on the west side sits a huge reservoir the massive walls of which have to be largely circumvented before you head down 600 metres to the bottom of the gauge and cross the dam into El Chorro. The walk down was very steep and the light was going so an interesting 20 minutes to the bottom. The gorge, the dam, even the reservoir at the top were all very impressive but it was cliffs above El Chorro that stole the show. The light has almost gone when I took the picture below but hopefully some of the scale is captured.
So despite missing the Olive Tree, a great days walking. Have now done a full seven days and it might sound like a weird thing to say, given that I'm on foot, but it feels like I'm racing through Spain.