The decision to taxi back from Cambils to Carchelejo turned out to be a good one for a number of reasons. First and foremost, after yesterday's mega walk, we both felt very tired this morning, my knees ached and for the first time I was concerned that I was not getting stronger but starting to wear out. So a short walk to Cambils without any serious weight in the rucksack, back here and rest and recuperation this afternoon, was just what the doctor ordered.
The walk from Carchelejo to Cambils is 15 kilometres with 200 metres of climb. It is supposed to take 3.30 minutes but unburdened with gear we did it less than 3. It involved a 5 kilometre march down the road to the motorway (through olive fields), under the motorway, and then 10 kilometres along a pretty valley up to Cambils. Nice weather and a pleasant walk. Lunch in Cambils and then back to Carchelejo for that rest and recuperation.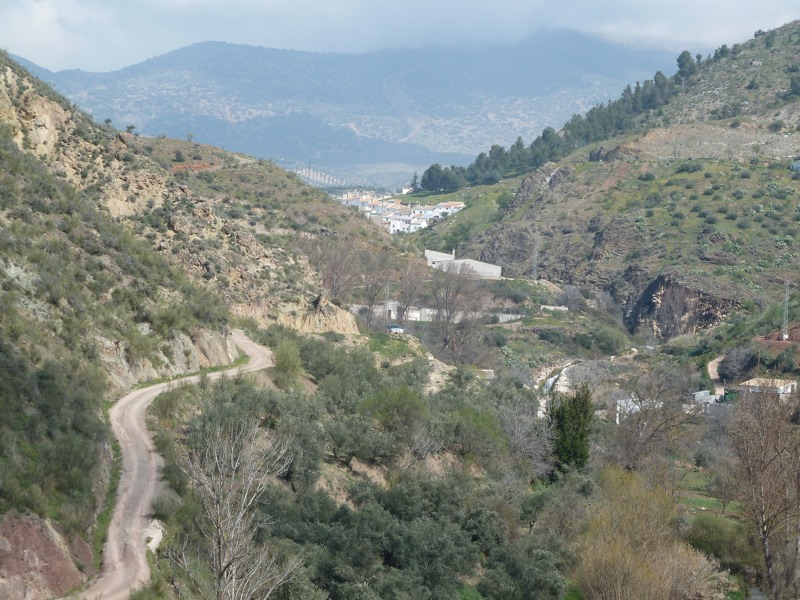 Staying in our own little house, with a cooking facilities, we decided to eat in - baked potatoes, cheese, ratatouille. For once it was nice not to eat in a bar.
The bars are actually great fun. You no doubt get a slightly odd impression of Spain spending so much time in bars but it is interesting none the less. The first thing you notice is that drinking habits are different here. As well as drinking all day, they drink different things. Lots of spirits, whisky, gin, and brandy and not much beer and certainty not in the large volumes consumed in the UK. The tapas thing is real and you only have to have a beer and small plate of ham and cheese will be offered as well. If you sit at the bar, and that's the best place to sit, then it seems almost compulsory to drop as much debris on the floor as possible. A television in the corner is an absolute fixture and this will be on even if the sound is turned down. The bars are very friendly, very male places, and although it's rare to find someone who speaks English, people are interested in what you're doing and somehow you usually strike up some sort of conversation.
Worth saying that food is a bit hit and miss. The menus are all basically the same, but the amount you get is really difficult to anticipate and it seems courses are sometimes for more than one person. So in Frailes Christine managed to order courses each of which had to be for two people at least. The first was Russian salad the size of entire upturned blancmange with breadsticks sticking out of it Desperate Dan style, very tasty but Christine only managed to eat about 20 per cent of it. The second course was calamari served on a huge platter and again there was more than enough for three people.
We did notice an English couple in the bar in Frailes and they have turned up in Carchelejo tonight having completed the walk we did yesterday in two days. Although they were carrying more gear, and had camped on the way, they clearly felt that doing the walk in one day was a bit of achievement and explained it away by saying that we were obviously younger. Nice to be accused of being younger even if it wasn't true.
- Posted using BlogPress from my iPad