Having a rest day in Requena, about 8 kilometres away from the GR7 for reasons which will become apparent, so a double day blog.
The two big news items, firstly an equipment failure and secondly an accommodation failure.
Walking is not exactly a technical sport so a bit of kit actually failing is very unusual and I suspect some will find it interesting. My water reservoir sprung a leak. The alternative name for a reservoir is a bladder but the idea of a leaking bladder is particularly unpleasant so I'm going to stick with reservoir. I know exactly how the leak came about and it's a clear design fault, really exciting, so I will have probably write a separate blog on it.
Anyway as I was leaving Cortes de Pallas the bottom of my back felt a bit damp. This has happened before, usually when the bag has been left on it's side, so I didn't worry. After about 10 minutes I decided to investigate and sure enough there was a leak.
What to do. It's a relatively busy road walk out of Cortes de Pallas, I didn't have anything I could put the water in and I reasoned it was slow enough not to matter. After about 35 minutes the do nothing option was becoming untenable,it was starting to look like I had a leaking bladder as well as a leaking reservoir, an impression reinforced by the underpants which were drying on the back of my backpack.
Leaking Bladder
Nothing to do but find an old bottle, put a chlorine tablet in it, drain the reservoir and change my clothes. Down to less than a litre of water but a half way stop on the route where I might be able to get more. I thought that was all the excitement I was going to have for the day.
My original schedule had involved walking all the way through to El Rebollar and then somehow getting to Requena which is where the nearest accommodation is. Christine Durrant thought she had found an auberge in Milares and had booked and paid for it in advance. They were going to refund me her costs when I got there.
Apart from the wet clothes the walk, despite being along a road for the first 5/6 kilometres, was interesting. This area has a lot of infrastructure, a nuclear power station, a reservoir at the bottom of the gorge and another one at the top, power cables everywhere.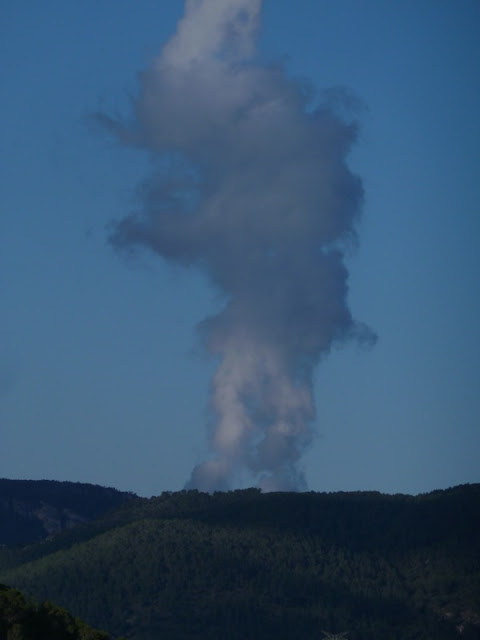 Cooling Towers
After a while you leave the road and start the first climb up the side a very impressive gorge. Climbs are a feature of the walk and heading north I'm definitely crossing the grain of the landscape and will complete five climbs before I finish. The other feature is a lot of overgrown forest paths, difficult to follow despite good marking, the GPS is really useful. Just before I get to the top I see my first snake sunning itself on a rock. A light yellow or olive colour with black markings all along it's back - about a metre long.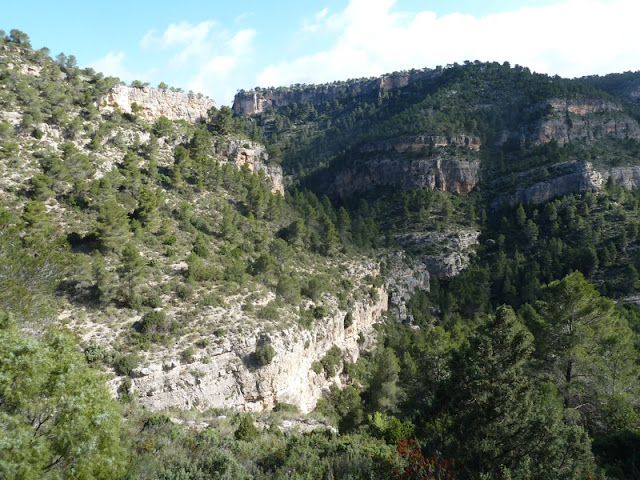 Gorge to the north west of Cortes de Pallas
Ancient Cave Hose
It's a flat top for 2 or 3 kilometres and then down into the next valley. The restaurant at Venta Caeta is open so I stop for lunch at about 12.45. It was Sunday yesterday, I was on the road at 7.45 and have very little food on board.
Leaving the village the second climb goes to the top of the Col Rodona, again through a really thick forest trail, down the other side and then up again on the third climb. It's then a long and meandering descent on a much better trail down to what looks like a campsite but not yet open and with access to a road. It's now about five o'clock and I'm starting to look for Milares. Slightly worrying is a table of services at the campsite for the GR7 which doesn't mention Milares accommodation.
Worry not, after about 30 minutes a GR sign saying 45 minutes to Milares and an auberge. The GR route takes you on a complex route (ignoring the direct one along the road) and eventually I'm in Milares. It's about six houses, non have mains electricity and there is absolutely no one there. Having wandered around a bit I ring the number Christine Durrant gave me for the accommodation but no answer. I wander through the village and eventually find a sign to an auberge, find the auberge but it's long closed. It does however have a different name to the one Christine has booked so the evidence is not conclusive, although the chances of two auberges seem a bit remote.
Decide to go back to small village on the other side of Milares to see if the auberge is there. This place at least has mains electricity and dogs start to bark at me - life at least. At the end of the village there is some activity. As I get closer I see it's a man spraying the back of his small lorry with a high pressure hose. The lorry, would you believe it, has something to do with bees and the man is dressed in gear you associate with a nuclear disaster, I decide to leave him to it.
On the way back I see some elderly people with some sheep, they tell me where Milares is and tell me the auberge is closed. One final brain wave, I ring up Christine and John Durrant. Encouragingly they are confident that the auberge does exist, they had spoken to them yesterday, and they will SMS me the details. The connection is very bad.
I march back to Milares awaiting the SMS and determined to turn over every stone to find the auberge. My confidence starts to slip, no SMS and no auberge. I get back through to Christine by which time she had worked out the problem, the auberge is in Milanes, or somewhere with a slightly different spelling.
What to do?
I could either go back and throw myself on the mercy of the sheep people (who had not offered to help despite my predicament) or press on. I pressed on.
Climbing out of Milares
This is about 7.30. I didn't really know how far El Rebollar was but knew I would have to get there in good time to organise transport to Requena. Dusk is now arriving and it takes me just under 90 minutes to climb to the top of the pass. It's now dark, half moon, but the sign is clear enough, El Rebollar 3 hours. It's a small place and arriving there at midnight seemed a pretty desperate plan.
As it happens the walk was OK, the path was fairly clear, and it's amazing how much you can see with even a half moon. After another hour I arrived at a old cottage, which had a flat grassy area in front of it. I decided to put all my gear on and see if I could sleep. Flat, smooth surfaces by the way are very unusual around here, the standard surface is rock, or packed soil, covered with rocks.
I did nearly go to sleep but the forest is a noisy place at night what with the owls, larger things crashing through the trees and my stomach. At one point I was convinced that my stomach was sneaking up on me.
Eventually I was just too cold and had to walk just to warm up. This didn't take that long and I wanted to go to sleep again but no flat, remotely comfortable surface presented itself. I did sit on a rock for a bit and some animals came rushing past, had to be deer or possibly even boar.
Had to decide whether I wanted to hang around on the mountain or head into town. Didn't really know what the final approach to town was going to be like or indeed the reception I might get at this time of night from the Spanish dogs. Stayed on the mountain until 3 (found another flat place) and then headed down. Only one dog in El Rebollar and two on the outskirts of Requena. Not counting the roaming around the Milares conurbation, I had walked 50 kilometres.
Was in the centre by 5.30 and watched the town wake up. Two very heavy smokers with terrible coughs ejected from somewhere at 5.45, hospital workers changing shift at 6, the first bar open at 6.30 with the first drinkers in there almost immediately. I kill time with a couple of coffees and manage to get into Hotel Avenida by 7.45.
I had originally planned to do the whole thing in a day but always knew it would be a mega challenge and was pleased when Christine found an alternative. Christine's mistake was an easy one to make and I'm sure I will make similar ones before I'm finished. The particular issue with this stretch of the walk is that there just isn't any accommodation.