Today's walk was just awful, not point to it at all other than a means to get to Tarragona. I think that's what happening with this part of the walk. Instead of doing the obvious thing and carrying on up the GR 7, the Catalan contingent to the design process must have felt it would be a good idea to visit some iconic Catalan locations and dragged the E4 down from the mountains to achieve that. Today it's Tarragona, in a couple of days it's Santa Joan de Mediona and then it's Montserrat.
Will have a look at rest of the GR 7 when I get home but at the moment leaving it feels like a mistake. The walk today was just an endless walk along a seaside promenade. Eventually the coastal path ran out but I missed the signs and after a series of false starts managed to get around the headland beyond the resort of Port Salou, to the next beach but GR signs and I think the path coastal path had shot of inland.
The reason was that at the end of the beach about three kilometres away, was the southern edge of the enormous Tarragona port. Behind the port was a huge chemical works. If you haven't been to Middlesbrough this won't mean anything but this is Middlesborough on the Mediterranean.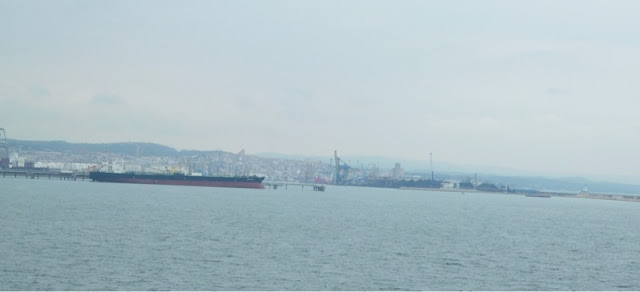 Ships at Tarragona
There were buses at the beach end which would have taken me to Tarragona and the sensible thing would have been to get one but I just kept walking. Eventually the beach ran out and I had to head inland. There was a road which seemed to go through the chemical works and with a sense of foreboding I followed it. It just got worse and worse, smellier, busier, increasingly confined and actually dangerous. I was starting to think about retracing my steps when a man in an ancient Nissan Micra came to rescue me. The phrase don't accept lifts from strange men did spring to mind and this man was photofit strange but hey look whose talking. Anyway I got in without much hesitation, although my rucksack resisted, and he took me all the way to Tarragona, about 7 kilometres along a dual carriageway. He was very impressed that I had walked all the way from Tarifa and we shook hands at each of the five stages it took to get my rucksack, which had now made itself at home, out of the backseat and through the front door of the Micra. Another example of a friendly Spaniard/Catalan saving the day.
So I'm having a rest day in Tarragona. Was going to have a long weekend here with Christine but we decided that as she was here last week that it was a lot of travel for just one weekend. Got a bit of rescheduling to do as a consequence, as I'm actually running a bit ahead of myself.