The final taxi leg of Christine's journey was a bit stressful yesterday, very hard to find anyone to go so far into mountains. As always, or nearly always, someone came up with a solution and an emotional Christine arrived at about 7 o'clock. Lesson for the future is to avoid such remote places for a meet up. Casa Muralla by the way was excellent, lovely room and provided an evening meal as well.
After a cloudy day yesterday it was sunny again today, a bit fresh but perfect for walking. The walk to Bejis was a scheduled 23 kilometres but with a detour we added an unplanned 6 kilometres plus a lot of extra climb.
The source of confusion was a marathon being run along parts of the GR7. Quite a tough run I would have thought, up and down some steep paths. Anyway some of the organisers helpfully sent us down the wrong route and I was so busy lecturing Christine about something, got a whole month of lecturing to catch up on, that I didn't check the route for about half an hour by which time we had climbed unnecessarily way up the mountain, going perilously close to Christine's first beehive gulag.
Marathon runners outside Andilla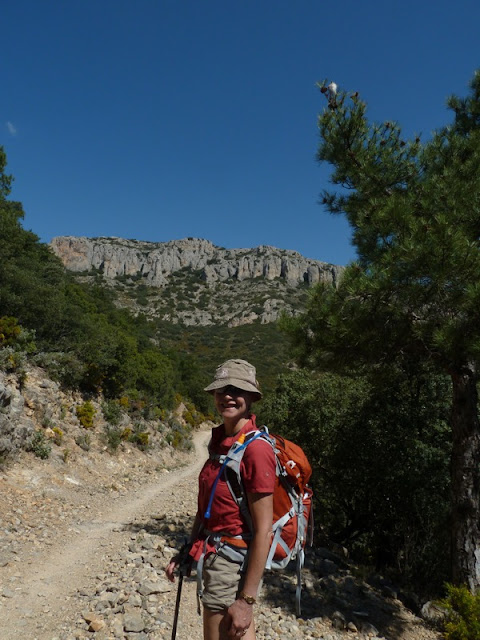 First day out for Christine
Not the end of the world and we didn't make any more mistakes. It also means that whenever I'm in full rant about something Christine can break me off by saying "are we going the right way".
As well as the lovely clear weather I guess the highlight of the walk was the broom (could have been gorse) which was everywhere in full flower and smelling wonderful. Having come down from our unnecessary detour, which took us over 1300m, much of the walk was along the bottom of a valley which had a stream in it. At times the stream formed pools which looked perfect for some wild water swimming, just the slight chill in the air put us off from going in, honestly.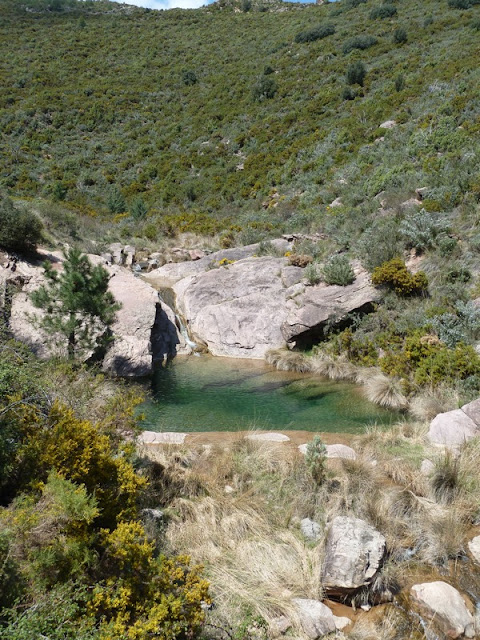 Swimming pools along the Rio Canales
The other highlight was a wonderful highly calorific birthday cake which Christine had bought all the way from the UK. Just the job, should last for least three days.
After going through a couple of pretty little villages, Arteas de Arriba and Arteas de Abajo, it was a contour walk to the ancient town of Bejis, another settlement defensively positioned on the side of a hill. Staying in the Hostal Restuarant El Pita which seems fine, although frustratingly no wifi.
When we arrived at 4.30pm the last Sunday lunchers were just finishing what looked like a splendid meal, and we sat and had a beer while the patron and his family cleared up the debris. There were huge jars of local honey on the bar which I have to confess sent shivers down my spine.
One of the things I was ranting about today was the difference between the UK and Spanish housing markets. Even in Bejis, really a village in UK terms (although as always much denser than in the UK) there is a large empty new block of flats on the edge. I'm trying to my head around the fact that the UK housing boom produced such a huge hike in prices but only limited increase in supply whereas here the boom generated a massive over supply.
Bejis
Christine adds:
It's good to see John looking so well. He's has clearly got into the rhythm of this thing and is very relaxed, enjoying every adventure.
Since I was last here the weather has got much better and the vegetation has completely changed. It's now true Mediterranean aromatic scrubland, maquis and garrigue I think tho I can't remember the difference. All I do know is wearing shorts carries the risk of very scratched legs by the end of the day.