Was a bit apprehensive about today's walk. It involved the biggest climb I've done so far and, given my recent track record, I was nervous about getting lost. So I left early and was out of the the "habitacion" in La Pobla de Lillet (behind the Cerdanya restaurant, cheap and miserable) by 7, and, after coffee and cake, was walking by 7.30.
I did start badly and was on the wrong side of the valley heading out of town and well below the road I should have been walking on. There was a way of avoiding going all the way back and that was to follow the line of the narrow gauge yellow train which goes up to the cement museum. Lots of warning signs telling you not to do it but having checked the timetable decided to be a devil. Was tempted to wait for the cement museum to open but managed to resist it.
No Yellow Train just the tracks
The walk takes you into the Parc Natural del Cadi Moixero. The weather was perfect and as usual I had it all to myself. At one point I disturbed a deer which leap away ahead of me making a strange sort of barking noise and was then treated to a brilliant arial display by up to 10 eagles (or something like eagles). I also saw my first marmot.
Part of the walk was on a narrow path underneath a huge limestone ridge. In the middle distance looking west you also got a great view of a mountain which I think was Cornabona (2530).
Up the valley towards the Col de Pal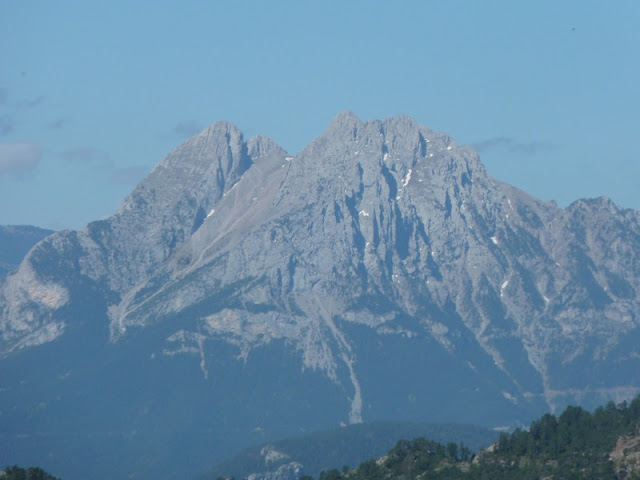 Cornabona
Had actually been going up hill ever since leaving La Pobla de Lillet and although it did get steeper as you got to the top of Col de Pay it was a fairly easy way of climbing 1100 metres. Once you got the top you were in ski resort country with runs heading down to the valley below. I love skiing but resorts can make a mess of the mountains. Alp was just around the corner to the west. Across the valley the mountains were in France.
Down a ski run
Across the valley to France
Lost the GR4 amongst the ski runs but was able to follow a well marked local walk down to Alp. Arrived at about 3.30 having walked 26 kilometres with a total of 1600 metres of ascent. Alp is about 8 kilometres from Puigcerda and the French border. Not doing anything tomorrow other than resting my feet. Staying in a very nice hotel which is also off season cheap. My room is full of drying clothes.