After yesterday I wasn't really expecting much from today but it has been a good one.
Borreda looks a really nice mountain town although I was slightly ripped of in the place I stayed at. It's perhaps just a bit in-between in terms of seasons and a lot of places haven't opened up yet and even those that have are not really geared up. The place I was hoping to stay tonight wasn't open but some brilliant work by the back-office team in the UK found me somewhere else, booked it, and it has all worked out fine.
Anyway got away nice and early after a good breakfast. It was drizzling and everything was very wet after yesterday's rain and my feet were soon soaking. Was able to follow the GR signs for about 20 minutes before I lost them and made my own way. Then they turned up again and were actually good for the rest of the day.
It was just an excellent walk. Not sure when I move from the foothills of the Pyrenees to the actual Pyrenees but today I climbed up to nearly 1700 metres. Some great views south and I sure I was looking at the Montserrat range but a few clouds obscured the serrated profile. It was the same rock, with the large pebbles in it, as I saw at Monserrat.
Looking south from Les Pilones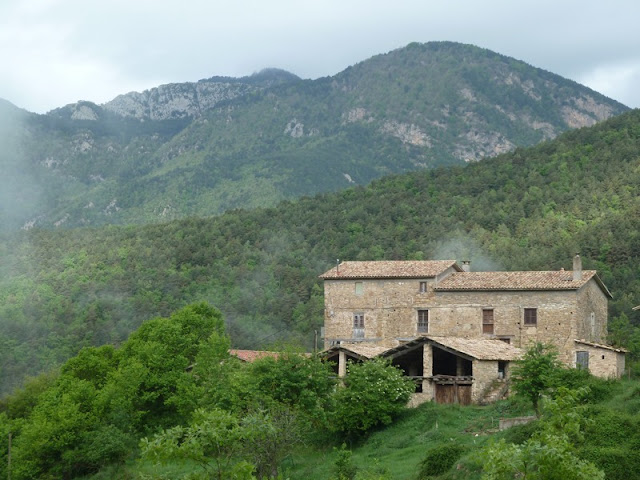 Sant Romà de la Clusa
It is just the best time be walking through trees. Today there was a real mix of deciduous and coniferous trees presenting a whole range of different shades of green. A one point I was walking through a hill side of solid beech trees whose leaves could only have been out for days, absolutely wonderful.
Spring Growth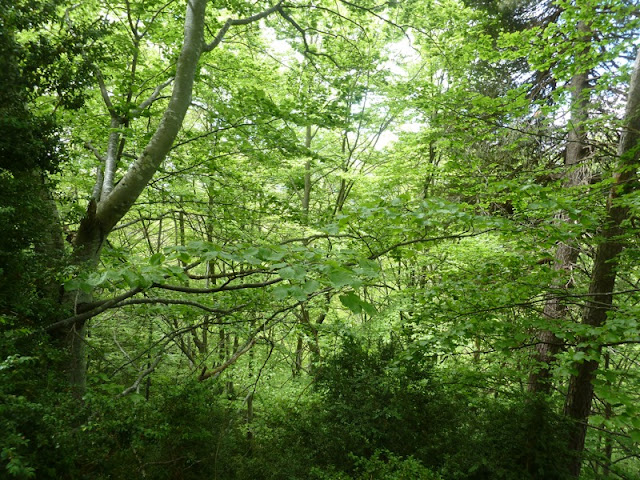 Through the Forest
So one more solid day of walking in Spain and then a day's rest before crossing the border. Tomorrow's walk is a really tough one. I'm at about 900 metres at the moment. From here it's a non-stop climb up to the Coll de Pall which is 2100 metres, then down to 1900 metres then up again to the Coll de la Mola which is 2300 metres. Going for an early start in the morning.