Today was supposed to be an easy day, a chance to recover from yesterday's big one. Instead it turned into a navigation disaster and I didn't get to Borreda, which is only about 20 kilometres from Santa Maria de Merles until about 7. I blame the Catalans and their signs.
I did have a leisurely start. Had a lovely breakfast with the Casanovas in their amazing house, the Masia Escrigas, discussed the walk with them and how tough the trip up to Alp might be. They even gave me a walking stick. I didn't start walking until well after 10.
Everything went fine for the first 90 minutes, got to Segas which has an 11th century church, and had already done a third of the trip. It started to rain but not really heavily and I had to do a bit of road walking but not a disaster.
Segas
The signs had started to change a bit. Really expensive looking signs at the major junctions but the white and red waymarks in between were becoming rare. This was slowing things down a bit but I was still making progress. Had some lunch (discovered I had lost my Swiss Army knife) and pressed on.
At about 2.45 I came to a sign which said Borreda 5.8 kilometres which was good news although the sign did seem to be sending me in the wrong direction. Followed the road down hill to La Portella and by the time I got to the bottom, in the absence of any GR signs, or another sign to Borreda decided to go back up the hill. Got to the top, went 200 yards in the opposite direction to the way the sign told me to go and found another sign to Borreda.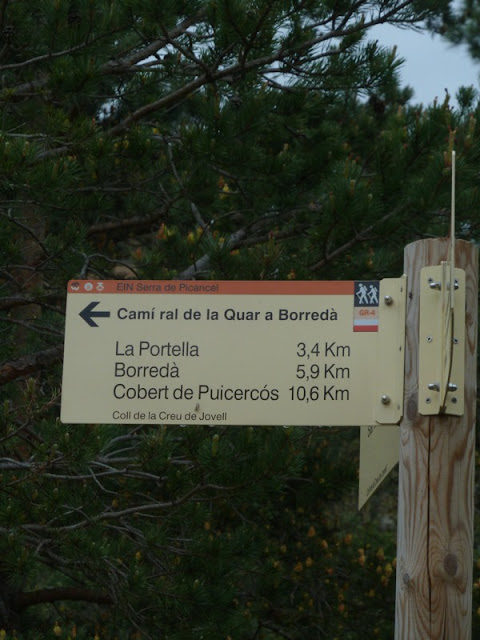 Good sign, wrong direction
Right direction
It was now just after 4 and lots of signs to Borreda, should get there for 5.30 easily. Followed the GR signs down the hill, lovely walk was even starting to forget the 7 kilometre detour. So cheerful, and the way was so clearly marked, that it wasn't until nearly 5 that I started to wander where Borreda might be and decided to check my map. The GR signs had taken on a route well to the east of where I needed to be.
Lost in the trees
Decided to navigate my way across country using forest trails and the maps on my GPS. Had lost a lot of height and it wasn't until 6.45, and a few dead ends amongst the trees, that I was in sight of Borreda. Just as I was coming into town the GR signs reappeared like street lights being turned back on. When I got into town there was a really helpful map which showed that there were two GRs heading into Borreda, and that I had followed the other one, the GR 242, heading east. It's just a shame that the junction between the two wasn't prominently signed.
Two more days walking in Catalonia and to be honest I can't wait to be in Alp, my last stop before crossing the border. Tomorrow's walk is 25 kilometres and the map in town has shown me where the first bear trap is, the point at which the two GRs split, so hopefully I will head of in the right direction.