Our wonderful host at the Chambre d'Hote (Le Relais des Faisses) reminded us that the causse area we are now walking through was the setting for the sinister event in Ian McEwan's novel "Black Dog". We are also getting into the countryside where La Bete du Gevaudan, a wolf-like monster, killed 100 people, between 1764 and 1767. Given that combination I'm not sure what was worst, the first black dog to start barking at us or the exceptionally hairy donkey.
Black Dog
Brilliant morning for a walk, bright, cool wind, clear blue sky, perfect fit with the wide open landscape which featured in the first half of the walk. It's much dryer here than the countryside I've been walking through since the Pyrenees and the greens have changed from spring like to high summer.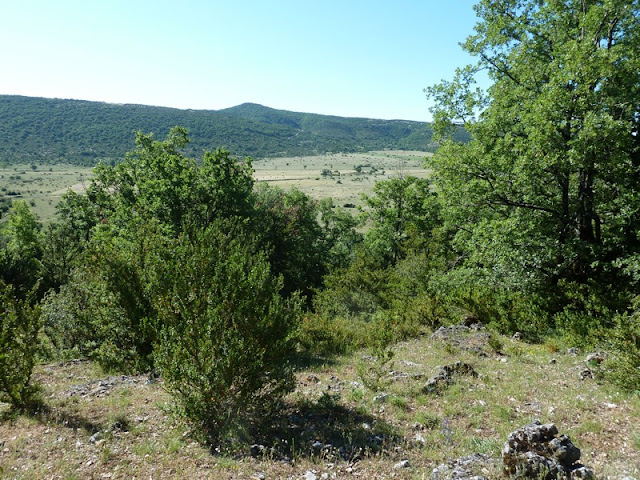 High dry plain to the north of La Vacquerie et Saint-Martin-de-Castries
After crossing a high level plain the first village you get to is Saint-Maurice-de-Navacelles which looks nice but with not as many facilities as our stop-over last night. Just after Saint-Maurice-de-Navacelles you drop into the Gorge de la Vis, a great gash across the causse.
The walk along the gorge was great, initially a steep descent all the way down to the river and then a gently undulating walk along the side. The only frustration was that the river looked very inviting and we had set our minds on a bit of river swimming, but the path stubbornly kept its distance.
Gorge de la Vis
La Vis
After walking about 20 kilometres we arrived a Navacelles which is a beautiful village complete with crashing waterfalls and a wonderful ancient footbridge. Staying here and spent the afternoon relaxing in the sun and Christine even went for a swim. Much too cold for me but I haven't been acclimatised by swims in the English Channel.
Navacelles
Bridge at Navacelles
Wild water swimming
Navacelles is also the location for the Cirque de Navacelles. A neck of a sharpe meander in the river system eventually cut through and the neck formed the waterfalls and the ancient meander the Cirque. The flat bottom of the ancient river bed is now a large U shaped hay meadow and Nacacelles sits inside the U on the island of rock next to the waterfalls. An amazing location it was declared a site of special national significance in 1943.
Christine writes: Our base tonight is 'Ammonite', a beautifully restored old house owned by a friendly Dutch family who also run the creperie down the road. Looking forward to salad and omelette tonight. John has just found the key to last night's room in his trouser pocket - our host has volunteered to get it back to it's rightful owner.