More fun and games trying to find our way out of Lodeve this morning and it turns out that the GR7 goes on a fairly circuitous route heading south before it loops back up round to where it should be going. This southern diversion was enough to confuse me and it wasn't until we had the entire staff of the tourist information office working on the problem that I accepted that the circuitous route was indeed the right one. Fortunately today was quite a short one so the time wasted didn't really matter.
After the heat of yesterday today was much cooler, cloudy to start with and then clear and windy, good walking weather.
Picked up a baguette for lunch which Christine insisted on sticking out the back of my rucksack, actually very useful for picking up wifi.
Marching out of Lodeve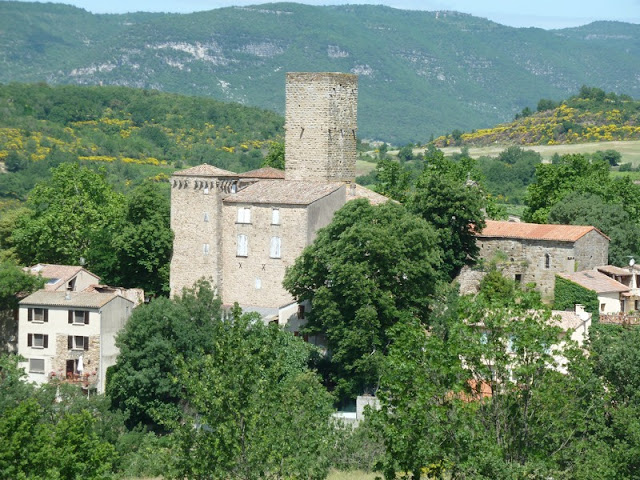 Fozeires
Initially we shared the route with the Pilgrim's Way and the GR 71 and it wasn't until we got to the pretty village of Fozieres that we got onto the GR7 proper. It was then a fairly long monotonous walk up through pine trees with the monotony only broken by the occasional cherry orchard with an opportunity for cherry gorging.
Just past the Col du Melanque
After about 20 kilometres and 900 metres of climb we started to escape the trees and emerge into the causse countryside proper. I like it and after 6 days of walking through trees it's a really nice change.
Approaching La Vacquerie et Saint-Martin-de-Castries
La Vacquerie et Saint-Martin-de-Castries was a bit of a surprise, a lot more facilities than we were expecting. We are staying in a Chambre d'Hote, which doesn't evening meals but there is a smart looking restaurant in the village and we're going there tonight.
Something worrying is that I'm suddenly getting attacked by ticks, four in the last three days which compares with one in the last 55 years. I think I managed to remove all the bits but I don't really know how dangerous they are. Anyway from tomorrow I will be wearing long trousers as a safe rather than sorry precaution. If anyone has any advice on ticks please let me know.