What a dreadful day.
Two things went wrong, firstly it was mis-sold as a relatively short flat day and secondly the weather continues to be bad. Shame because it's Christine's last day and she was not happy as we struggled to find the hotel at 5.45 in the pouring rain.
For some reason my schedule was about 10 kilometres out, I thought this was a 20k rather than a 30k walk and although we are no longer in the Cevennes we still managed to find over 600 metres of climb.
Went into the town centre in Les Vans to get breakfast and food for the day. It was Saturday, market day and everything was there to buy. It was also dark and sombre and after ten minutes we got our first thunder storm which we were able to watch from the comfort of a cafe. We weren't going to get such comfort later.
Le Vans Market
Pressing on we were soon out of town and dashing into a farm building to escape storm number 2 and watch a dramatic lightening show.
Seriously wet
The rain then eased off and apart from the odd bit of drizzle it looked like we had had the worse. In fact it started to get hot and humid.
After walking across causse-like countryside and through a wood, and through growing numbers of French walkers, we got our first sight of the Gorge d'Ardeche, and walked along it's edge for about a kilometre. The view was great but the smooth wet limestone slabs we were walking along on the very edge of the cliff were treacherous.
Gorge d'Ardeche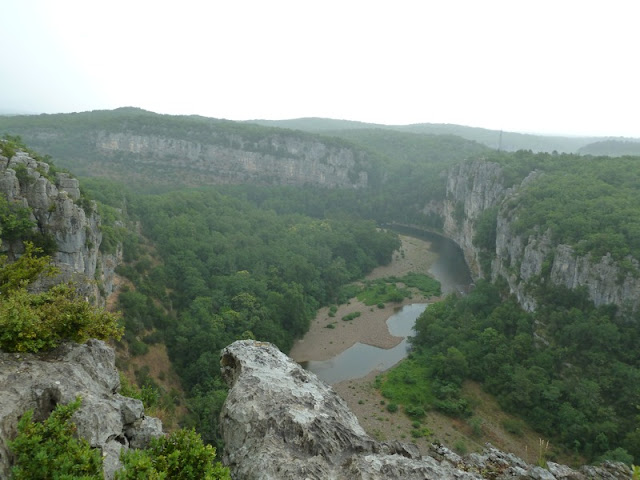 Gorge D'Ardeche
Stopped for a coffee in the village of Berrias under the illusion that we were half way and then crossed a flat arable stretch of countryside, a sudden change in the landscape.
Flat country for the first time in a month
At about two we were climbing the hills on the other side and I was telling Christine we had about 7 kilometres to go. At 3pm the lightening started and the deluge began. Although we had a bit of a climb the trail was a good one and we were walking very fast and couldn't really understand why we weren't getting there. We seemed to be going round in circles along an endless high winding trail. It wasn't until nearly 5 that we saw a sign that gave us 4 kilometres to go.
Cliffs near Pont d'Ardeche
The views by the way on that last bit, despite the weather, were great with the River Ardeche winding away below us. Not in the mood to enjoy them and struggling to find the hotel amongst thousands of sodden campers was not exactly a pleasure.
The hotel was a nice one and we had a lovely dinner and Christine forgave me for my scheduling and all was soon right in the world