For once got my timing right. Walked along a brilliant ridge in perfect weather and with absolutely great views. Today was definitely a contender for the best walk so far. Had originally planned to go from Lingenau to Gunzesried, and as it turns out that would have been a really tough 11 hour walk and I would also have been doing it yesterday when the weather wasn't nearly as good as today.
I thought I had done all the hard work yesterday but today was a tougher walk. Didn't have my GPS on but I expect that it involved at least 1500 metres of climb and even more descent. It was a ridge walk but there were five significant climbs along it as well as some smaller ones. Basically it's a sandstone ridge, with rock very similar to the conglomerate I came across at Monserrat. It forms the northern flank of Alps and and after it everything drops away very steeply into vast expanse of Germany. To the south there is a valley and then the much high Lechtal Alps.
Got away at about 7.30 with first climb up the Hochgrat right outside the door of the hut. It was perfect morning and the views were just great and it actually stayed clear all day with none of usual heat haze gathering to obscure everything. Was able to see much of the route I walked with Christine last year in particular the scary ridge on the Hoher Freschen which we climbed just as the sun was setting on the first day. It's the mountain in the middle distance and the ridge running up the front is clearly visible.
Hoher Freschen in the middle distance
Not sure which were my favourite views, the views south across the valley to the higher Alps or the views east and west along the ridge
Lechtal Alps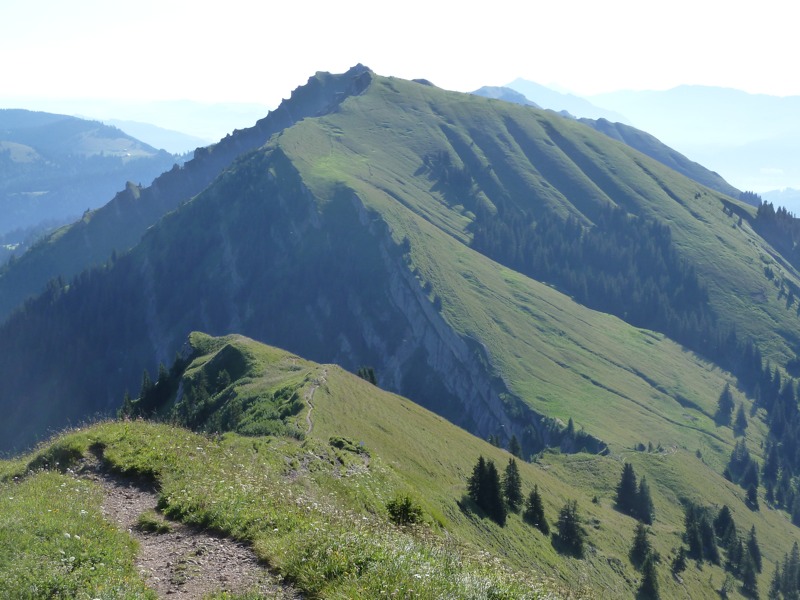 East along the Ridge
Just to prove I was really there a self portrait at the top of Rindalphorn. No hat today and my huge forehead got a bit burnt.
Rindalphorn
As the walk progress it got busier and every sort of walker was out. Really nice to see so many young people walking, lots of women, and a bit scary, lots of people carrying babies on those backpack things. Did it myself when Hannah was a baby but it now looks a bit mad. I didn't actually see anyone carrying a baby up the ladder on the optional last peak.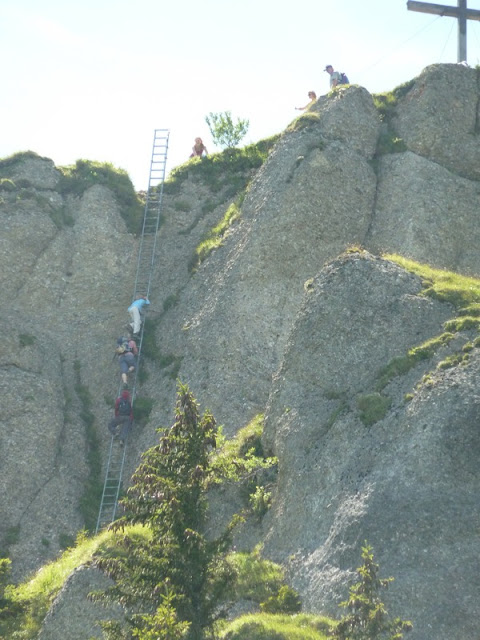 Fire escape
Got down to Gunzesried at about 2, had something to eat and decided to walk down to Sonthofen to make tomorrow's walk a bit shorter (the weather is apparently changing again). Wanted to buy a map but couldn't even find the town centre and spent the last 90 minutes or so trying to work out where the E4 leaves heading east. Think I have but will do a bit more research later on the Internet. Staying in a nice not too expensive Gasthof on the east side of Sonthofen.