So today's walk involved a steep walk down to the town of Noiraigue and then an equally steep walk up the other side, back onto the ridge and a walk along that to the Hotel at the Vue des Alps. Total walk of about 28 kilometres with a 1000 metres of climb.
The weather is just the same as yesterday, sunny but with a chilly wind. Still can't see the Alps.
Sleeping in the refuge was fine last night, a bit cold. Got a good nights sleep although woken up very early by people with weak bladders tramping through the dormitory. The floor literally shook every time someone walked across it. I was the only person in the dormitory so the family rooms were actually more crowded. Good food, had a fondue, one a year is about right I think.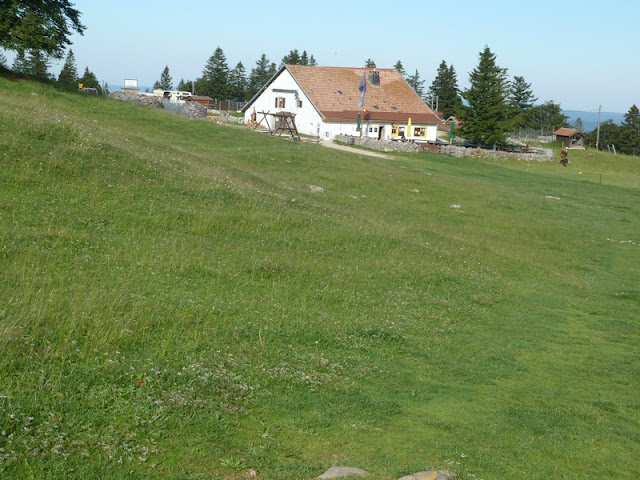 Le Solait
Met up with a walker I saw a few times yesterday and walked with him for a couple of hours. A Swiss guy, spoke perfect English, he is training for a big walk in Sweden and was carrying 22 kilograms which makes my load look a bit pathetic (have worked out that the weight I'm carrying is less than the weight I've lost). He tells me the weather is unusual, and is normally much hotter than this. He thinks the best time to walk this ridge is late May. Mind you there were loads of walkers out today, literally hundreds piling of the train in Noirague, most of them going in the other direction.
Having climbing out the valley the first 10 kilometres or so was very close to the edge but in trees. The views were either down to Lake Nuechatel or back across the valley to yesterday's incredible gorge. Got very close to a chamois but the picture didn't work.
Lake Nuechatel
Left my Swiss friend as he wasn't going as far as me and I needed to crack on a bit. Compared to him carrying all that weight I was super speedy.
The countryside then opened up. For a time I was walking away from the edge but through some lovely park like scenery.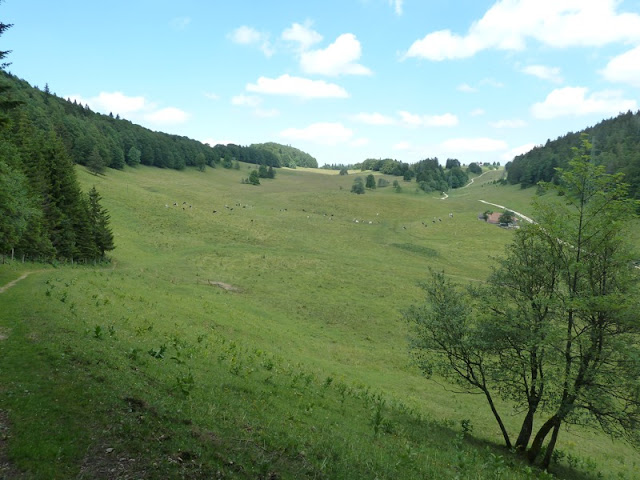 Meadows
For the last bit of the walk I was on the ridge again with views in all directions. Such a shame that it is still misty over the Alps.
Must admit that I had high hopes of this hotel. It's actually situated on a col going over the ridge next to a busy road. There is also an enormous car park and it's a bit of a tourist attraction. To be honest the last two or three kilometres were just a bit busy compared to what I have got used to.
The place I was going to stay tomorrow night no longer does rooms so I have now got a bit of rejigging to do with my schedule. This is where maps would have been useful!