It's very easy walking now, almost flat, and after the dash yesterday to Stein am Rhein I'm now a couple of days ahead of myself so I'm taking it easy. Navigation is also very straightforward, just keep the water on your left hand side, today the Rhine tomorrow Lake Constance.
The main part of Stein am Rhein is actually on the north bank of the Rhine with the border with Germany immediately to the east of town. My very basic and, for what it was, very expensive hotel was just over the bridge on the south side and before leaving this morning I crossed over to have a look around the impressive main square. Half timbered houses are covered in murals depicting medieval scenes. High above the town sits the Hohenklingen Castle which was built in the 12th century.
Stein am Rhein
Stein am Rhein from the south of the Rhine
So today was another hot sticky one (the thunder storms went on all last night) but this didn't stop the Swiss who were out on mass taking every sort of exercise imaginable. Occasionally I had to share my wanderweg with cyclists but mostly they had their own route which was just as well as there were hundreds of them. Many were carrying gear and the cycle network looks as well organised and extensive as the footpath network.
It's so hard not to impressed by how everything works and indeed how this is helped by everyone's impeccable behaviour. People leave their bikes unlocked and trains run along tracks not enclosed by fences. In the UK the bikes would disappear and the cables running alongside the tracks would be removed.
Open access railway
It's amazing how Roger Federer seems to typify Switzerland with both combining incredible success with charm and modesty, even to the extent that Switzerland only seems to make a moderate fuss about Roger Federer (imagine if he was English - "Tim" Federer).
Must admit some of this impeccable behaviour feels just a tad conformist to me. I preferred tennis when Conners and McEnroe were its stars and I find those unlocked bikes tempting.
Switzerland mixes rural sentimentally with the aggressively modern. Within a couple of kilometres I walked past an ancient farmstead where diners were being served food in a setting reminiscent of Amish barn raising in Witness (a favourite film of mine) and a whole series of futuristic houses all of which would qualify for a Grand Design programme.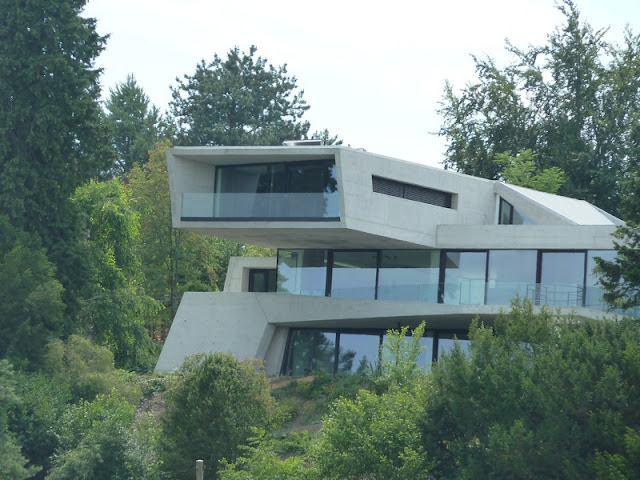 Grand Design
Today's walk was basically a resort to resort walk (Underdorf, Steckborn, Berlingen) with lots of people in the water doing lots of water based activities. Got to Ermatingen at around 2.30 after walking just over 20 kilometres. Hadn't bothered looking for a hotel in advance but found one really easily and for once it was very reasonable.