I have failed miserably as an E4 guide. After only two days I have managed to loose Roger and Sue. A percentage loss might be tolerable but a 100 per cent failure rate probably destroys any chance of developing an alternative career as a long distance walking guide.
My approach to navigation had already failed to impress Roger. We are at the opposite ends of the navigation spectrum. Roger is a detailed map man, comes armed with routes marked on maps, understands all the potential perils and the options for avoiding them. I'm more irresponsible and map-lite.
With Roger armed with more detailed information I progressively surrendered my E4 guiding responsibility happy to let the man with the maps take the decisions. Until the point I lost Roger and Sue this worked well.
Today was a big walk, about 27 kilometres and 1700 metres. There was a high level option, which might actually have involved less climb, but this involved crossing some fairly exposed stretches and it was felt that the longer route was safer.
After yesterday the weather at least had improved. Initially in fact it was perfect, fresh and clear, and we had some great views as we left the Kenzenhutte and climbed up over our first ridge,the Backenalmsattel.
Kenzenhutte
Going down the valley to Linderhof was not so pleasant. The vegetation was high and wet and we should have put out leggings on but instead got soaked. More challenging was crossing a ford in full flood. I helpfully took the photographs but Roger and Sue unsportingly refused to fall over in the torrent.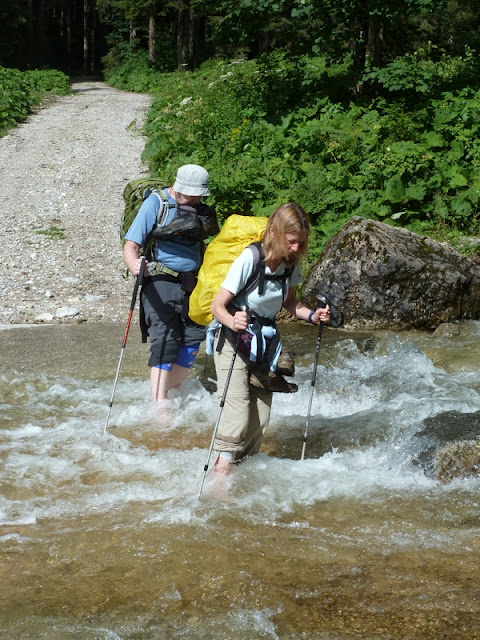 Boots off
Linderhof was full of tourists visiting the palace. We had the prospect of a 700 metre climb up to August-Schuster-Haus so didn't hang about any longer than it took to drink a cup of coffee and eat a Mars bar. Liked the statue in front of the palace more than the palace.
Outside the Linderhof
The walk up to the August-Schuster-Haus was if anything tougher than we expected and we didn't get there until two. Great bowls of soup enjoyed in an amazing location restored flagging spirits.
August-Schuster-Haus
We got down to Unterammergua really quickly but still had to make our third climb of the day, another 600 metres up to Hornlehutte. It was now raining and Roger and Sue were running on empty.
The way up was pretty straightforward and after initially declining the invitation from Roger and Sue for me to press on to the top and I decided to do just that. About a 100 metres of climb from the summit I had to run a gauntlet of cows who for some reason were neither eating grass or chewing the cud, and who were a bit spooky about something. The thought did cross my mind that Roger and Sue, without my rural heritage, might find their behaviour a little more than interesting but I'm afraid I just pressed on already tasting the beer in the hut.
I arrived at 6, ordered my beer and waited. At 6.30 I went back down the trail to look for them, did at lot of shouting but no sign of anyone. Must admit I was getting worried. No reception on the phone and in any event Roger had broken his phone and I didn't have Sue's number. At 7.15 went to the top of the summit behind the hut. Had a voicemail from a friend in London saying that Roger and Sue, confronted by aggressive cows had decided to walk back down to Unterammergua. Got a text later confirming that they were safe and that we would meet up tomorrow night. Going to be an interesting postmortem on this one, already a dispute about the sex of one of the animals and the absence of bull fighting expertise in the party.