Fussen is a really interesting place, certainly enough to do on a day awafrom the trail, but all I did on my rest day was buy a new hat. I'm a Philistine, I feel bad, but no doubt I'll get over it. By the way I bought, at hugely expense a gortex hat, Given the damage I did to my forehead on the one sunny day I didn't wear a hat I think it's a good investment. The only question, after today's walk, is when am I going to get to see the sun again.
Today was the first full walk with Roger and Sue and the weather was really bad. They are new to alpine walking and the mountain's towering over Fussen are a bit challenging and there was some initial discussion about taking a cable car to the top. In the end they bravely decided they wanted to walk with me although we didn't take the "Alpine Gefahr!" option, which we think means "watch out this is scary".
Given the rain, which started early in the morning, we did cheat a bit and caught a bus out of town to foot of the cable car. This knocked off some through town walking and perhaps saved us about a kilometre. We started walking at 8.45, the sign said we had a three and half hour climb to the restaurant at the top of the cable car, but going nice and steadily we actually made it by 11.15. 900 metres of climb in two and half hours, not bad when you've just arrived from the UK.
If the weather had been better we would have enjoyed amazing views of Fussen's famous castles, as it was we did get a bit of a taster.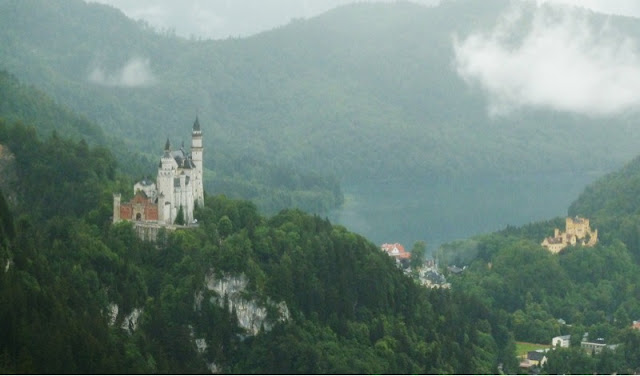 Neuschwanstein Castle
Having done so well to get to the top quickly it was a real blow to find the restaurant shut (the weather was too bad for the cable car). No option but to press on. There are two E4 options at this point, a high scary option and a easier more direct option. There is also a third Maximillianweg option which is an intermediary to the other two. All three routes take you to the Kenzenhutte, and given the weather we went for the direct route.
Even the direct route on a better day would have been stunning. A narro path high up on the side of a steep valley followed by a really sharp drop through a gorge and then a walk along a forest trail through tall pines. Trouble was feet were soaked, I was cold, and it was hard to appreciate even what might have been in a driving cold rain.
In the rain coming down from the Tegelberghaus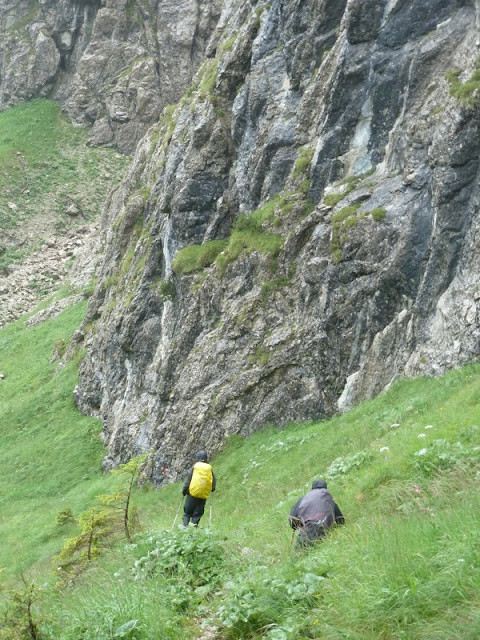 My favourite bit of the walk was the last hour. The path went through at a wide flat valley with a lake at the bottom. Occasionally clouds lifted enough to provide just a glimpse of huge towering cliffs we surrounded by. There were waterfalls in every direction. The final little sting in tail was a walk along the edge of one of these crashing torrents, a slip at which point would certainly have finished things nicely.
Waterfall up to Kenzenhutte
Got to Kenzenhutte at about 2.30 and have grabbed the table next to the fire. Hats, socks and gloves are currently drying out nicely and for me at least the memory of freezing feet is starting to fade.
First Impressions from Sue.
Choosing July to join John was based on a mistaken assumption that it would be warm and sunny - how stupid was that! Tucked up by the fire and I feel like we're on a skiing holiday. Highlight of the first day for me was the early part of the descent with some quite steep grassy drops to one side onto a tree lined valley. Found a prime spot for lunch - huddled up in a tiny hut/observation point a bench just big enough with the rain tipping down outside.