After yesterday's high wire acts and general fireworks today's walk was more heavy duty, more of a slog. The walk was much longer, involved two big climbs, and the weather had once again turned against us. Given the length of the walk, 34 kilometres, and the 1800 metre climb, it was absolutely essential that we didn't loose any time by missing the track.
We had an extra kilometre or so to walk before we found the track but after that it was a solid, steady uphill climb through trees until we were completely surrounded by a cold clinging mist.
Coffee at the Hochgernhaus Hutte was the first bit of relief and meeting the spitting image of Rodney from Only Fools and Horses the second. Given recent encounters with savage bovines Rodney's first hand knowledge of bulls was of interest, he kept bulls for beef down in the village. Less welcome was his view that we wouldn't make Ruhpolding before 8 in the evening and that the cliffs above us were very dangerous particularly when you couldn't see where your going. Rodney declined the invitation to give us a lift up the mountain on his tractor.
Top map man / Hochgern
Returning to the trail and the mist we got to the top of Hochgern about 30 minutes after leaving the hut. Chris studied the map carefully and concluded that we should take the direction opposite to my instincts at least and he was dead right. It was absolutely critical that we found the right path down and his navigation was on the nail.
Loosing 600 metres of altitude was a bit of a pain but at least we got out of the cloud and for a time the weather seemed to be improving. We actually had our sandwiches in the sunshine.
The second climb was not so high as the first but it was later in the day and energy had already been sapped. The route gave us the choice of climbing all the way to the top of Hochfelln or heading down from the pass just beneath. Presented with the invitation we declined it and shot of down the mountain.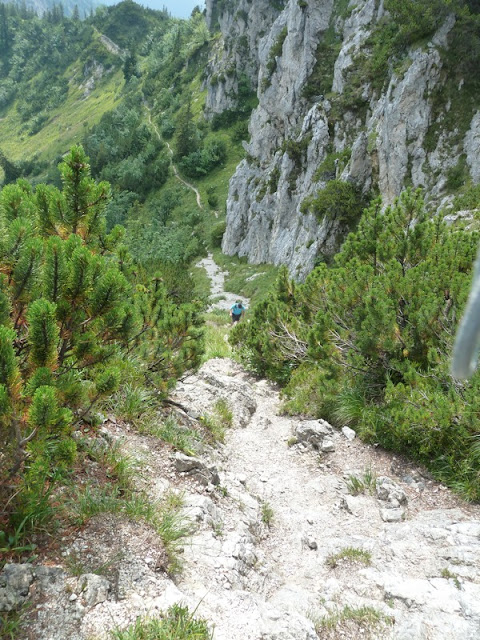 Climbing up Hochfelln
After walking for five months it's easy for me to forget how big these walks are for new joiners. Huge descents at the end of a long day can be treacherous when your knackered and sure enough Chris missed the path and crumbled down like some large animal victim of a hunter's rifle. Fortunately the fall was not as bad as it looked and he was soon on his feet again non the worse.
As usual the final bit of the walk was on hard surfaces and arriving in Ruhpolding in the rain after six we dived into the first Gashof we could see. Big big walk but in the end nailed without too much drama.