Report by visiting Chris Dickinson another cousin.
We feel lucky in Tatum's choice of hotel in Hohenaschau. A warm welcome by a helpful barman who wanted to practice his accomplished English on us followed by good meal. Compared to previous menus this one gave us a really extensive choice. We apologise for leaving the table before making adequate arrangements for the bill! An honest mistake Guv.
There seemed a long walk down a metalled road before rejoining the E4. However we eventually came to a parkplatz with good signed and a warning that our first summit was four and a half hours a way. It did bring a slight droop to my morale. Hayes is an accomplished walker as you would expect, he has a relentless step only varied by the gradient. I guess he can carry on all day without rest. Tatum is a gazelle who eats up anything over 45 degrees, being a cyclist with no weight helps. Your author is an old front row forward designed to carry heavy weights.
Pleasingly the start was demanding but steady and we ate up the metres. We distracted ourselves by talking on various subjects such as leadership and the battle of Waterloo! We passed a few other walkers, including a gentleman who could have a least given us 10 years moving at a very respectable pace who we were to meet later on the summit.
Following coffee and buttermilk at one of the many mountain huts on this side we continued up the steady slope, thankfully still less than 45 degrees. We soon stood below the summit reading the story of how the spectacular cross had been hauled to the summit many years ago. However this did herald the end of the kinder part of the route and we started on an interesting scramble to the summit. Of course this was Tatum's world and he bounded ahead like demented four legged mountain goat, while yours truly left a stream of perspiration along the last 150m. We did make the summit in at least an hour better than the time on the sign at the bottom. We were rewarded with some wonderful views and usefully an idea of the way ahead. Hayes sprung up a conversation with the elder walker we had seen earlier in the day. They swooped stories of Ben Nevis and the horrors of rubbish at altitude.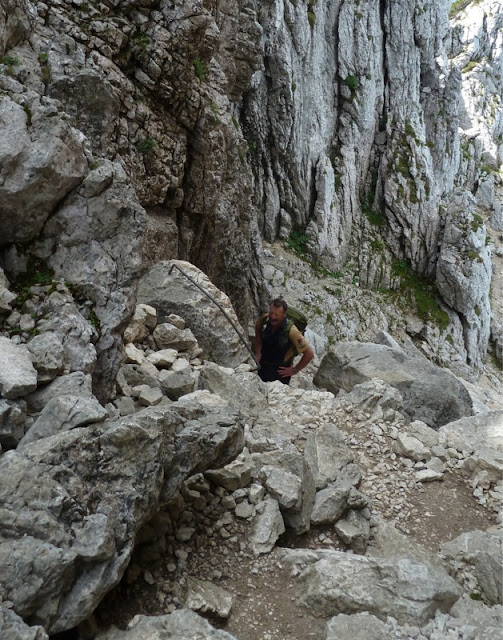 Scrambling up Grasjoch/Kampenwand
At the top of Grasjoch
Tatum came to gloat over our descent from the ridge down some fixed ropes. I stood back with respect and allowed Hayes to inspect the feasibility of the way down. Mad fool leapt down swinging off the metal daring me to follow, sadly I had little choice. You can see from the picture that it was all dramatic stuff. The deer (sic) cousin left for Blighty by different route, we wish him well and safe journey.
Scrambling down Grasjoch
We fought through the bushes along the pathway making it like a tunnel along the south side of the ridge until we climbed and topped at the ridge a few hundred metres away. There four or five paths met and ever believing in local information I asked a couple the way to tonight's destination. They were not local but from Berlin and had done the complete ascent last year, good enough for me! Sadly their memory was not as good as we hoped and we lost nearly 300m before we convinced ourselves of our mistake. My boots had to be dragged back up.
All the way back to the crest and we found a partially hidden track into the undergrowth that took us down the intended route. When we crossed the ridge again we say the very distinctive path we spied from Kampenwand and my heart picked up a joyous beat. On the way down we met many kind locals who wanted to talk about John's feat. We eventually caught up with the couple from Berlin, interestingly wife stopped to say how sorry they were to send us the wrong way earlier and the husband was so embarrassed that he had to walk on. Of course we were magnanimous and said there was no harm done, a different line to our discussion half an hour previously.
Looking back to Kampenwand
Sadly as we dropped down we entered trees and had to walk down steep forest tracks, the only excitement being the speeding bikes and the lycra covered riders. Nineteen kilometres and 1600m does not sound much but the rope descents provided sufficient excitement for this old cart horse.