Given the terrible weather forecast, was keen get of the high mountains as quickly as possible so it was an early breakfast and out if the hutte by 7.20. Slightly strange breakfast, I think some of our walkers were pilgrims and keen to get out and up to the cross on the Hohe Vietsch while others, including the bearded mascot, were on their second beer before we left.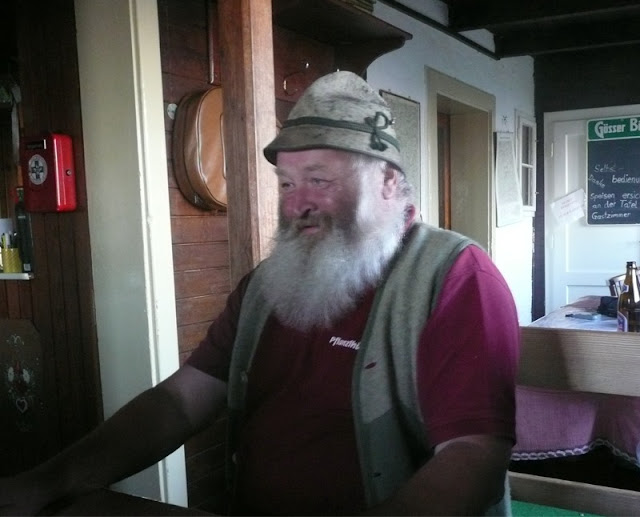 Graf Meran Haus drinker
Wonderful early morning walking, high open moorland type scenery, huge views.
Early views leaving Graf Meran Haus
Started to look dodgy quite quickly and perhaps I was looking for bad weather which in the end didn't actually arrive. Was accused of going too fast by Christine.
Dropping down a bit, the open countryside turned into pine forest with the track taking us along one ridge and then another. Despite walking through pine trees it was a pleasant walk, soft underfoot with a series of gentle climbs and descents. Although the anticipated rain didn't materialise I still wanted to press on and the main problem was keeping Christine moving through the periodic patches of wild raspberries. I thought they were too small to bother with but she just wanted to gorge herself.
Lots of tree walking
After the Hochschwab this part of the E4 isn't so well walked and the trail is not well marked. I was now depending on footpath signs for navigation as had run out of map, and at times finding them was like hunting for treasure. We were determined not to press on without a sign but, particularly where there had been recent forestry work, they seemed carefully hidden.
Eventually and after some particularly poor signage we were heading into Krampen which is where I expected to find a gasthof and, after three night's without a decent wash, a shower. Shock horror no gasthof. We didn't have the energy or cleanliness to press onto the next hutte which was another two hours away (although it was only 2.30 at this point). We were also struggling to figure out how Christine was going to get out of the mountains and catch her flight on Thursday if she stuck with me for another three nights of huttes. We decided we had to find a town and decided to end down the valley to Neuburg.
Even this didn't turn out to be as simple as we had hoped. My out of date guide said Neuburg had a railway station but when, after the best part of hour we got there, we found it was long closed as was the gasthof in the centre of the village.
We followed a sign to accommodation high above the village but it to seemed closed. Patience was running out. Wandered round the back and found the owner. She said yes they were closed but that they could find us a room, the restaurant was shut but she could find us some eggs and bread if we didn't mind managing for ourselves. It has all worked out very well, great room.
By 4 o'clock the skies opened and the rain came pouring down. Slightly later than forecast I still feel vindicated that we pressed on and got out of the high mountains before the weather changed. Hope it improves a bit before tomorrow. I will be on my own again for the last bit of the Alps before heading down again for the final three week run to Budapest.