Final guest blog by Christine
Today, my last taste of the E4 and my last day with John till he gets back, was a day of four parts. Two were good; two were pretty bad.
The good parts were determined by the perfect weather - a cloudless sky and fresh breeze - and by a variety of quality walking ranging from high alpine mountain tops to well-graded woodland trails.
The bad parts were entirely due to the lack of proper geographic information (and dare I say it, prior research) and the most fundamental requirement, a map. Perhaps I should also mention that we had no food with us other than a few hariboo jelly beans and a handful of raisins.
We were woken early by the few inhabitants of Karl Ludwig Haus crashing about, and were outside in the sunshine at 7.50am. The billowing cloud from the night before had gone and the sky was completely clear, giving us exhilarating views in all directions. There was quick route down to Preiner Gschaid but John decided that would be cheating so we did it the long way, going first up over Predigtshul and then round and steeply down the usual zig zag rocky root ridden path. It was a great start to the day though and we got down to the big car park feeling good.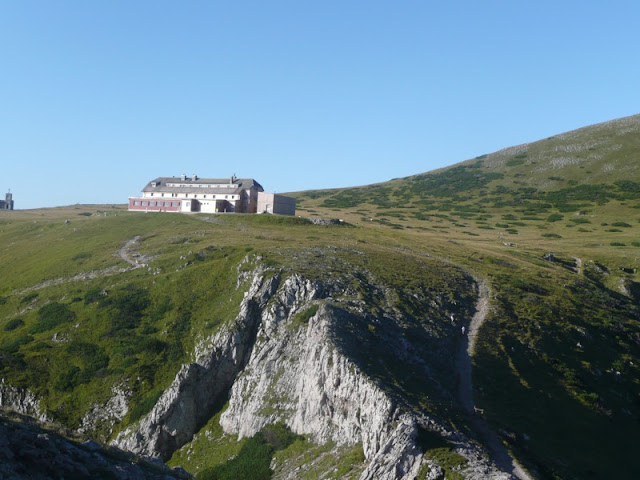 Karl Ludwig Haus
Dropping down to Wax Riegel Haus
Then it got bad. First no cafe or place to buy food. Second no signs. We wandered about up and down the road but there were absolutely no 801 signs anywhere. We were getting desperate. We knew the trail went due south from the car park so I got the compass out and we started up an unmarked track through the trees going vaguely in the right direction. Still no signs. Lots of bad temper and stress. After numerous twists and turns we finally saw a rusty 801 sign nailed to a tree about 90 minutes after leaving the car park. Spirits lifted and John shot off so fast I couldn't keep up.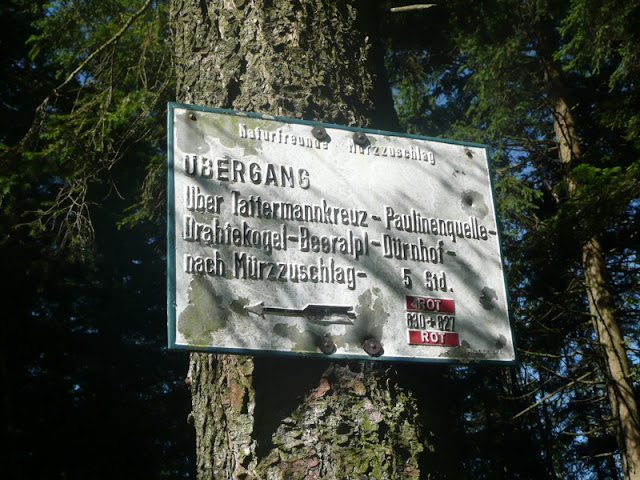 Confusing signs
Treated ourselves to few raisins on the next summit and then things started to improve. We were on a perfect path going very gradually down but hugging the contours so it was dead easy. Even better, it was paved with pine needles so wonderfully kind to the feet, like a top quality carpet with underlay. We strode out and must have clocked at least 5 km an hour. This went on for quite a while and we really enjoyed it.
At last an open bit
The path eventually normalised into rocks and roots. We were getting tired and hungry, but the path then decided to go up quite unnecessarily I thought, to a small summit called Pinkenkogel Haus. The sun became blastingly hot. We had been promised a hutte and possible food at this point but predictably the hutte was closed, so we had slaved up the hill for nothing.
We then had to find Semmering. John had promised a reasonable sized town with hotels and other semblances of civilisation. He said it was at 900 metres so we shouldn't have to drop too far, I should be able to get my train to Vienna tomorrow, and he should be able to proceed on his E4 walk with minimal disruption. The signs however were highly confusing and we ended up dropping down to a series of S bends on a long winding road lined with 19th century villas that had seen better days. No hotels, no gasthofs. I was getting decidedly bad tempered, being tired and hungry and thirsty - the water run out some time back. After another hour of messing about on wild goose chases we finally found a pension that both had a room and served food. Thank goodness. We must have done 35 km today at least, and over 1500m descent all in all.
So mixed feelings about today. No doubt after a good night's sleep and breakfast all will be fine.
Doing the E4 is tough though. I am still in one piece after 16 days walking and we are still talking to each other. But I wouldn't have the mental or physical strength to do what John does. Don't know how he does it.