My bag
Getting into the final final countdown now and starting to put my gear together. Got my backpack today and I'm really pleased with it - it's an Osprey Exos 46.
Must admit I have been a big fan of Osprey bags ever since Christine and I bought their bags for our Haute Route trip eight years ago. It was the first time we had planned a place to place trip and carried our own stuff, and was such a brilliant adventure, that everything about it has taken on a sort of mythical status, including the bags.
Christine with bag with the Grande Combin in the background
It is amazing how much bags have changed in just eight years. The Osprey bags we bought were Eclipse 32s, and were pretty leading edge, but look really dated now. In particular the approach to compression has changed (the Eclipse has boards), the material has got lighter and even the straps and buckles have been downsized with the Exos.
Compared to anything else we saw at the time, it was clear that Osprey put a lot of thought into the design of their bags - call me simple but I just loved the whistle on chest strap. The functionality is still there but they have added loads more. Perhaps the biggest development is all the different compartments you now get. This means you can pack things in terms of frequency of use. Overnight stuff in the main bag, waterproofs in the rear zip pocket, food in the top bag and suncream, and possibly camera in the pockets on the hip belt.
The best thing about the Exos 46 is its comfort. Although it looks like a day bag, it comes with sort of aluminium frame you associate with bags designed for much heavier loads. While the mesh panel fits really snuggly on your back, everything is ventilated which should keep me cool as well as comfortable.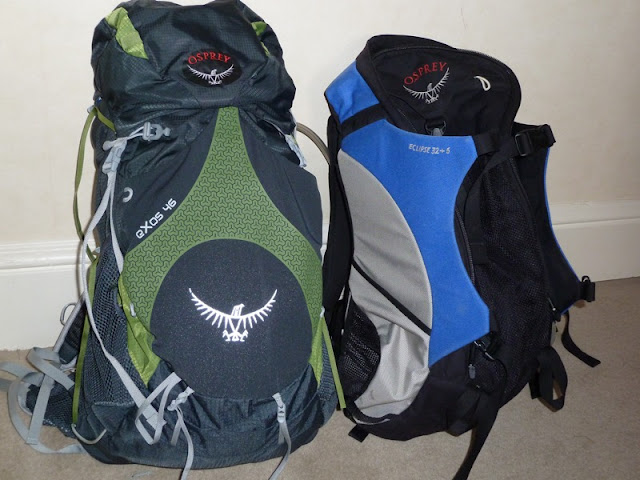 The picture above shows old and new sat side by side my front room. New not only looks really cool, but is less than half the weight of old with 30 per cent more capacity. If anyone wants old let me know!