In terms of accommodation I have gone from the sublime, Casa Pernias, to something else less luxurious in Moratalla, a pension. In fairness, when I did my research, I worked out there was only one hotel, saw it on the way in but walked past it thinking it was too far out and that, in the interests of seeing Moratalla, I should take pot luck. I have sacrificed comfort for mind broadening.
Today's 26 kilometre walk was very nice, spent it listening to Bruce Springsteen who I had been saving for a bad day, but decided not to wait. Nobody was about so was able to sing along. Strangely didn't see any wildlife.
As well as the music the scenery was good. The first 2/3 kilometres was through the upland plain I mentioned yesterday and it was then into another sandstone gorge. Maybe the upland plain was the bottom of some sort of glacial lake which eventually burst out forming the gorge.
The gorge was much wider than yesterday's but the cliffs had the same wonderful colours. If anything they were higher and some of the rock looked at lot harder. Unlike yesterday's gorge today's was predominately full of pine trees which, as you got lower, had lots of new growth on them and they looked springlike and fresh.
Through the gorge of the Rio Alharabe
Pine Trees with Spring Growth
The river at the bottom of the gorge, the Rio Alharabe, had to crossed twice and there was a lot of water in it. First effort resulted in wet feet. This was a real nuisance as I had finally got my walking shoes really dry at the Casa Pernias last night. They were starting to smell. Anyway waded through the second crossing which was fine but shoes are still wet and starting to smell again.
One of several fords
Moratalla is the biggest town I have been in since Cazorla but although in some ways comparable, it's a lot poorer and has a bit of a shabby feel. Lots of half finished blocks of flats. Impressive location, lots of amazing buildings in the old centre including a castle and several churches, it still feels well of the beaten track. Great views across to Calasparra which is where I'm going tomorrow.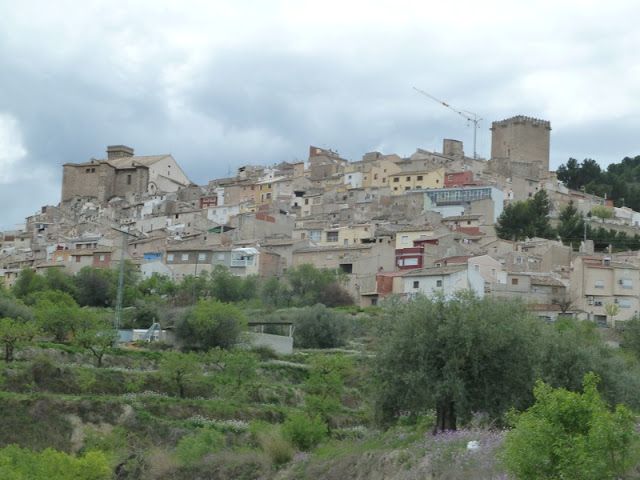 Moratalla
Convent of San Francisco