Venta Roman is a good place to go to on April Fools day because it's the place that doesn't exist. The Murcia Mountaineering and Walking Association reference it as an end of stage point but apart from that reference it doesn't exist at all on the web. It took me days to work out that it was a petrol station so no chance of any accommodation there.
So I'm staying two nights at the wonderful La Linda Tapada and Miguel picked me up at the petrol station at the end of the walk and will take me back there again tomorrow as I head out of Murcia.
The beginning of the walk, for the first hour or so, was along the road. I joined up with walk from La Linda Tapada but it would have been the same if I had set of from Cieza. My leg was really sore when I started, had been painful all night, and I was getting a bit fed up. Walked slowly and after a while it eased up and in the end, although it is a bit swollen, it was not really a problem.
The most distinctive feature of today's walk was the heat. By the time I finished the 26 kilometres at about 3.30 it was 29 degrees. It was fairly low down, and I'm just a few hundred metres of altitude would have made a big difference, but the sun was incredibly strong and it's only April the 1st.
Having walked past the out of town industrial estate and got onto path proper the countryside matched the heat. Incredibly dry, almost desert like. There were some ancient terraces, and a derelict farmstead, but it really looked like agriculture had been abandoned on this stretch. The best thing about this bit of the walk were the views back to the Almarchon, the mountain I walked around yesterday.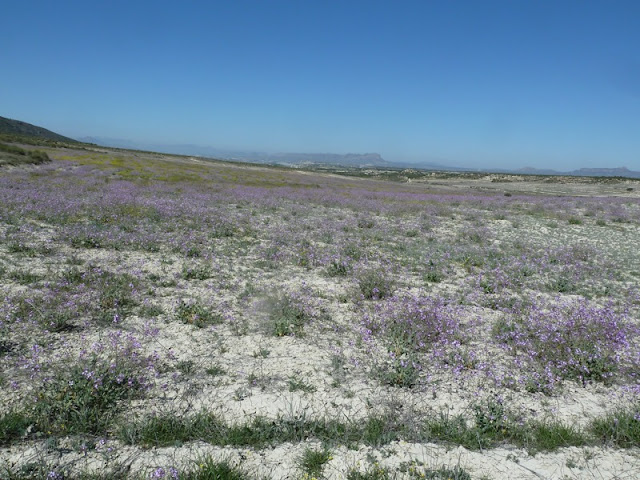 To the east of Cieza - almost a desert
Distant view of the Sierra del Almarchon
Eventually the pine trees reappeared and fruit trees and vines started to become the order of the day. Crossing the final pass and heading down to the petrol station I was suddenly in fruit tree alley, a huge expanse of trees, some of them of under different coloured plastic, obviously a really important centre for growing fruit.
Had a beer in the bar near the petrol station while I waited for Miguel. A brand new dual carriageway was under construction behind it, you can see it in the picture, but work on it has postponed. Unfinished blocks of flats and houses are everywhere but it's the first piece of public infrastructure I seen stopped in it's tracks by the Spanish economic crisis.
Venta Roman - Abandoned motorway in the background