Nice steady walk today, perhaps a bit low key, but maybe what was needed to get my ankle back on track. It's still a bit swollen but I'm not worried about it any more. What the "injury" has brought home however is how tight my schedule is, how vulnerable it is to anything going wrong, and how fed up I would be if anything did go wrong. I really want to do this walk.
Apart from being the perfect walk for my ankle the walk did not provide a lot to write home about. Miguel kindly took me back the petrol station at Venta Roman and had made me a great pack lunch. Weather was nice, not as hot as yesterday, good weather for walking. 26 kilometres to Pinosa, a very gentle climb, then across a wide valley, another gentle climb, and then a walk down into Pinosa. Just before you get to Pinosa you cross the border from Murcia into Valencia.
Heading east from Venta Roman
The boundary with Valencia
After my last attempt to point to what I thought was an unusual plant, which two people then dismissed as a daffodil, I'm a bit nervous about highlighting what looks like a cross between asparagus and a lupin. Is this interesting or just another display of my ignorance?
Lupin?
Almond and other fruit trees have to a large degree given way to vines which have still to emerge from their winter slumber. Given what they have to produce by September/October then they really have to crack on.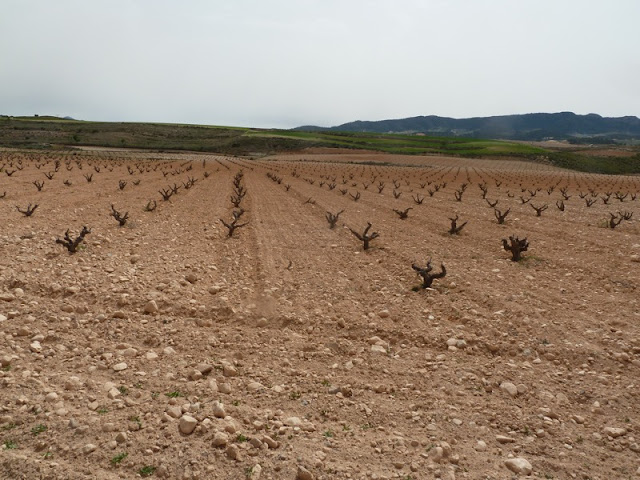 Vines in April
Pinosa is a small town (circa 1100 population) a significant proportion of which are British. The Bed & Breakfast I'm staying at, just outside the town, is actually British owned and the landlady is currently standing for election to the local council. Evidence of the collapse of the Spanish property market is everywhere in Pinosa.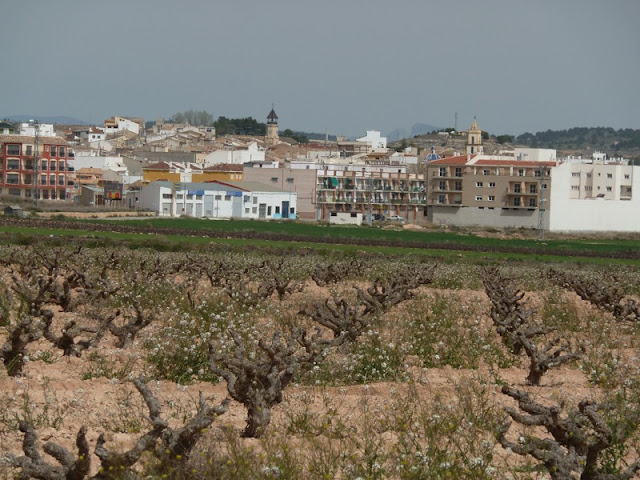 Pinosa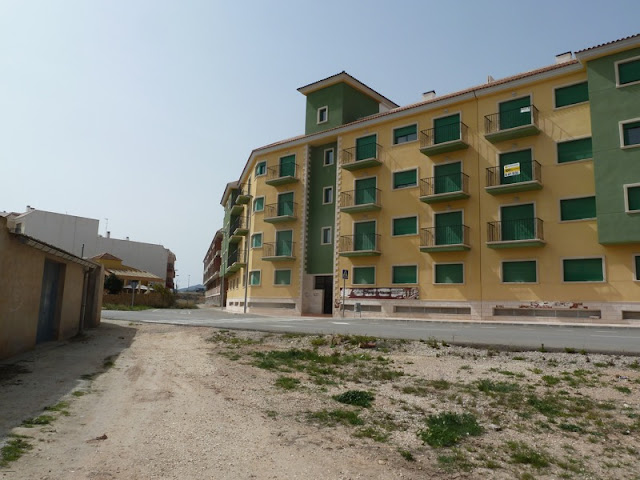 Endless empty flats
The really big news is that for the next couple of weeks or so I have a walking companion, Christine Durrant, and logistical back-up, provided by Christine's husband John. Some of the walking in Valencia is a bit remote, accommodation difficult to find, so this should work really well.
John was able get the Tottenham Wigan game on his laptop, given the game on Tuesday, 0-0 was entirely predictable.