Today's walk was 26 kilometres in overcast, warm and humid conditions, often on roads through countryside which was not very memorable I'm afraid. Not exactly inspirational.
The presence of British immigrants in Spain, evident for the first time yesterday on the approach to Pinosa, becomes increasingly apparent towards Elba. Two characteristics seem to distinguish them from the Spanish: firstly a love of gardens, which are often huge; and, secondly a willingness to pour money into old rotting buildings. There are huge numbers of wonderful old farmsteads all ready for the Grand Design treatment and as you get closer to the bits of Spain where the British congregate than these buildings start to get rescued.
Abandoned "finca"
Apart from the weather being a bit more overcast it was a very similar walk to yesterday's, a gentle climb up out of Pinosa, a short descent and a walk across a wide cultivated valley, another gentle climb and then a long descent into Elba.
At the beginning of the walk across the valley you go through the pretty village of Casas del Senyor. Particularly interesting were the chimneys which emerged at street level from the houses in the terrace below and, later on, the beautiful aqueduct, which I guess dates back to the time of Moors.
Walking on the roof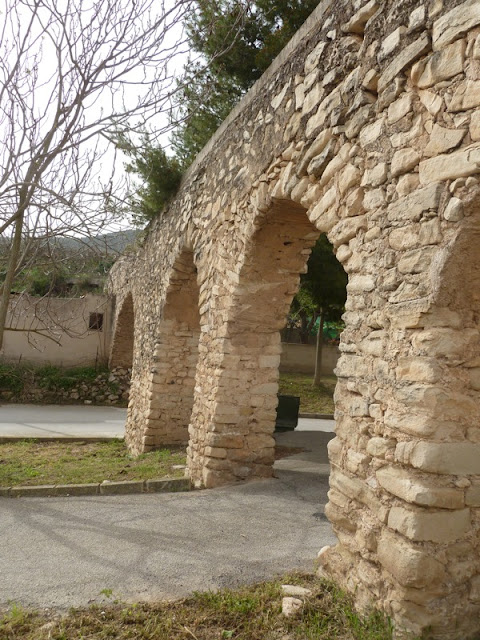 Moorish Aquaduct in Casas del Senyor
This dry landscape gets particularly ugly as you approach towns and was especially ugly during the final walk to Elba. The abandoned terraced fields, extensive fly tipping and the municipal tip made everything look completely unloved. Amongst all this, and with an impressive gate, sat Elba's cemetery, already big but with scope for significant expansion.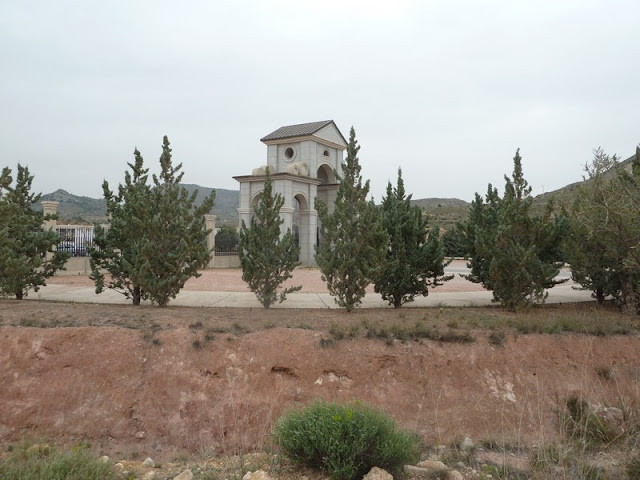 Huge gate to the crematorium near Elba
Elba by the way is the largest town I have been to so far, a population of over 45,000, and the Spanish centre for the manufacture of shoes.
With a Spanish resident as a walking companion and I'm getting my eye in for signs of the recession. I now understand the difference between the "for sale" sign for property which is being sold in the standard way and a property which has been repossessed by the banks and is subject to a forced sale. You can get very good financing terms with a forced sale. If I needed any further evidence of the immediacy of the recession I got it when I arrived at the hotel which had been booked only a few days ago but had now closed.
Signs of collapsed housing market everywhere