What a disaster. To concede an early goal was unfortunate but predictable but then to loose a player after 15 minutes made the outcome painfully inevitable. The Tottenham/Real Madrid game was on terrestrial television in Spain so not much atmosphere in the bar. Most people seemed to be Barcelona fans who initally were gunning for a Spurs victory but who then politely lost interest as things deteriorated.
Anyway a great walk today was some consolation. 27 kilometres from Alcoi to Bocairent with 1,000 metres of climb. Another Natural Park to travel through, this time the Sierra de Mariola.
The first highlight was a wonderful gorge, the Barranc de Cinc, immediately outside Alcoi, huge sandstone cliffs which got tighter and tighter leaving an exit at the end which was on a few feet across. It was so close to the town that sound of the police sirens echoed around it.
Gorge to the west of Alcoi
After that it's a long steady walk up to the Montcabrer, which at 1390 metres, is the third highest mountain in Valencia. The scenery was fantastic, classic limestone, and the views were amazing both back towards Alcoi and across the huge valley to the sea. If the weather had been a bit clearer than apparently the sea is visible. The ridge walk along the side of Moncabrer was perhaps the most dramatic bit of the E4 so far although the pictures don't do it justice.
Climbing up to Montcabrer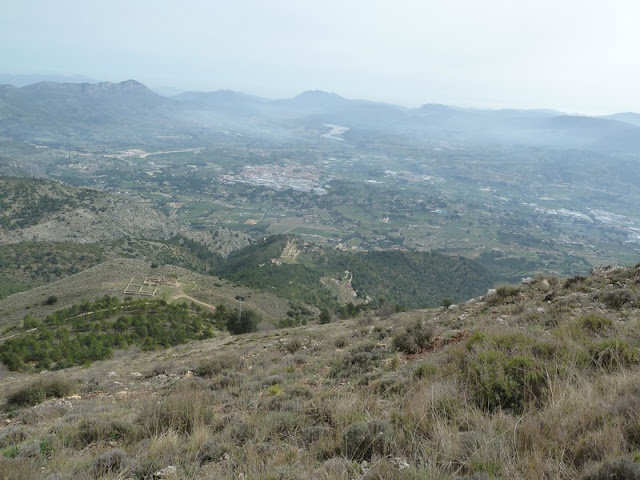 View from Montcabrer - in the distance the sea
Path running to the north of Montcabrer
The rest of the walk couldn't compete with the first third but it was still really good, nearly all of through pine although with the occasional patch of holm oak. Got a glimpse of a red squirrel and then spent ages trying to find it only to discover that it had been nonchalantly watching me all the time perched right on top of old telegraph pole.
Red Squirrel
Borcairent looks like another ancient town crowded around a hill, this time with a church rather than a castle as a focal point. Staying in a Casa Rural right in the middle, very nice but I couldn't figure out how get the sound system in then shower working, I kid you not.
Bocairent
So great walk, perfect cure for a miserable evening last night. Anyway we are only 4 goals down, still everything to play for next week.
Postscript
Bocairent is a really beautiful place, lots of tall terraced houses and little squares all surrounding the church and it's oversized tower. Another to add to the list of places I've seen where I really need to come back and have another look.