A rest day but couldn't resist walking Miranda de Sant Joan, one of the highest points in the Montserrat range and which turned out to be a really nice walk. About 600 metres of climb and a three hour round trip.
These really are unusual mountains. The rock, certainly at top, is a conglomerate of large pebbles which have been cemented together. Like pebbles on the beach at Brighton, but bigger, these have clearly been in water and themselves are a mix of all sorts of different rock. From a bit of a distance the rock looks like weathered cement.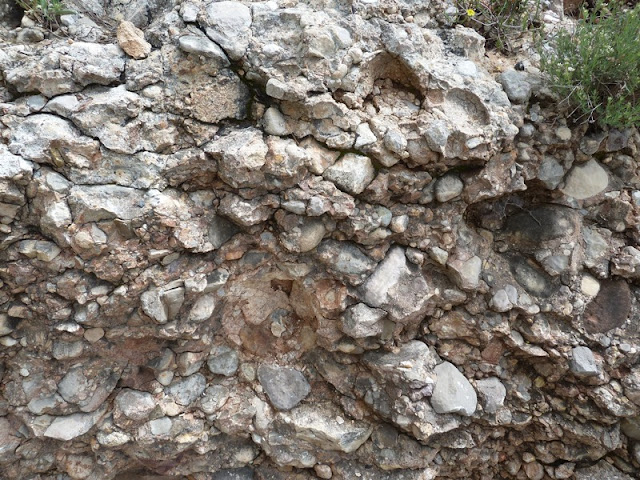 Montserrat rock structure
It must be the unusual composition of the rock that has led to some very distinct profiles. Really steep and a big attraction to climbers. One particular prominence caught my eye and if you look carefully at the picture below you see the climbers approaching the summit.
Could feel a bit of a dick climbing this one
Got a picture of myself at the top, as you can see I've wasted away so much that I need to be holding onto something to prevent myself keeling over. In the background are the Pyrenees but very difficult to make out. Also at the top I saw a deer catching the sun.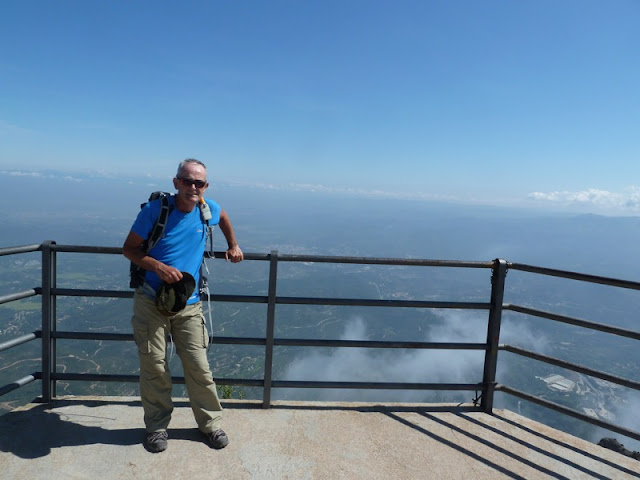 The top looking north to the Pyrenees
Deer catching the sun
I said yesterday that there is a funicular to bring people up to the monastery. Actually there is a train, a cable car and a road as well as the funicular to get people to the top. In the day time it is absolutely packed and the main reason everyone is coming is to see the Black Madonna and kiss the wooden ball she is holding. It's easy to be sniffy about this sort of thing but personally I'm into pilgrimages but would choose a different focus for veneration. Everest Base Camp is a sort of pilgrimage. I would also insist that there has to be a bit of effort. Coming up a mountain on a train or a coach doesn't count as far as I'm concerned.
Black Madonna