Back on the trail again after three days when I barely put one foot in front of the other. Had a brilliant break and special thanks to Lesley and J-P. Had everything short of a blood transfusion although in a vain effort to make a noticeable impression on their wine cellar I suspect my blood has changed composition. I have also been holed up in their lovely house through a period of continued unsettled weather so walking would have been miserable.
Got back to Grenoble at about 2, it had been raining all morning, and I was starting to think that I might need to think about alternative ways of getting to Le Sappey en Chartreuse which is only about 14 kilometres along the GR 9 but involves about 1400 metres of climb. Was coming into Grenoble on a bus and to be honest if I had seen a bus which said "Le Sappey en Chartreuse" I would have jumped on it.
You get onto the GR9 via the Vauban fortress which sits above the city and there is a funicular up to it which would save about 200 metres of climb. By the time I had walked round to the lift the rain had eased of and to avoid the queue I walked up the road. After the fortress you climb up to about 800 metres, follow a ridge through trees, and then drop down the little village of Le Chateau Pillon. You then have a really steep 500 metre climb up, taking you to 1300 metres, to another hill top fortress. This was really hard work made worse by a runner steaming past me just before the summit.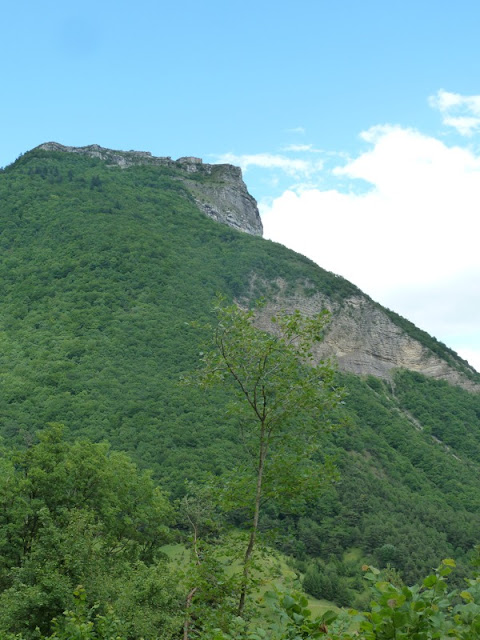 Climbing up through the Foret dom de la Tronche
The views from the top were great. You could see the whole trail back down to Grenoble and the route I had taken on my last walking day including the La Sure ridge.
Looking back to Grenoble
The walk then went along the a ridge for about 5 kilometres looking over the Isere valley with great views east to snow topped mountains on the other side.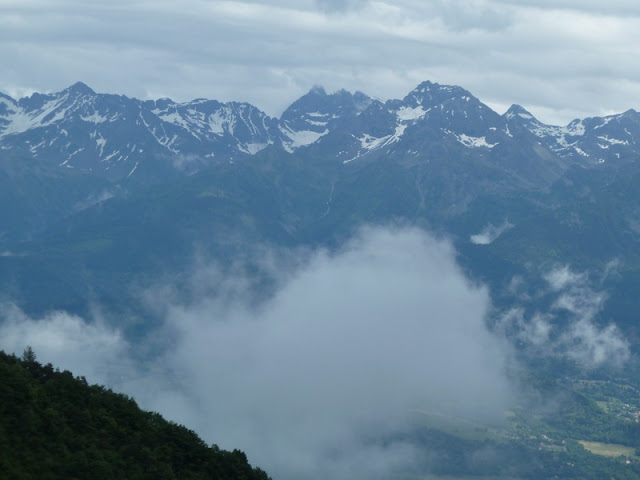 La Grande Pic de Belledone
Across the Isere Valley
Eventually the route turned west and away from the ridge heading down to Le Sappey en Chartreuse. Got to the Hotel, which looks budget busting, just before the heavens opened up. Considering how bad the weather was this morning I've been lucky and have had a good day. The forecast for tomorrow is good and the walk looks amazing, so fingers crossed.