Definitely too far but also a contender for the best walk of the trip. 30 kilometres, 1900 metres of climb, stunning scenery, mud, slippery rocks as well as some really challenging climbing; good job tomorrow is a short walk as my feet and legs feel seriously battered.
Ideally I would have got away from the hotel that charged too much sooner but breakfast wasn't until 8.30 and I wasn't walking until just before 9. Drizzly start to the day but weather-wise it felt promising. Although it was misty the sun kept breaking through illuminating great views.
Chamechaude
The first big spectacular was the Dent de Crolles, first approaching it and then climbing up it's side. Approaching it involved a long slow muddy walk through trees (clothes quickly rendered filthy), followed by a stiff walk up an open hill and then a scramble through rocks and a bit of via ferrata.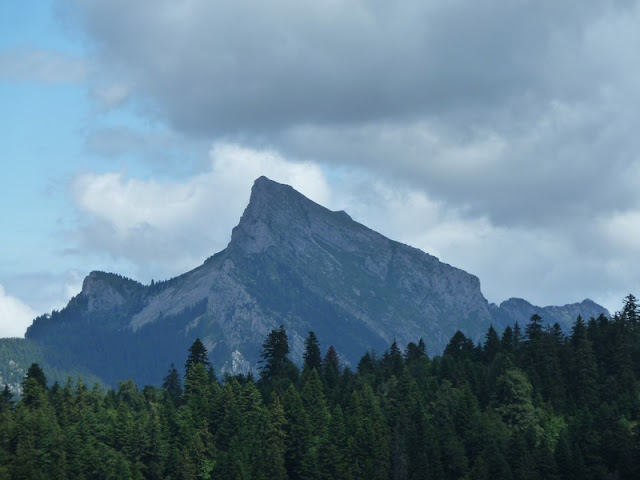 Dent de Crolles
Heading down to the Col de Coq
In the scrambling queue
This was the big climb of the day, a 400 metre climb up to 1700 metres but the route then dropped a bit followed by another 300 metre climb up to 1900 metres. Just as I got to the col at the top the sky cleared enough to see Mont Blanc and the views all around were amazing. Both of these climbs were really busy but that just added to the fun.
Back to the Vercors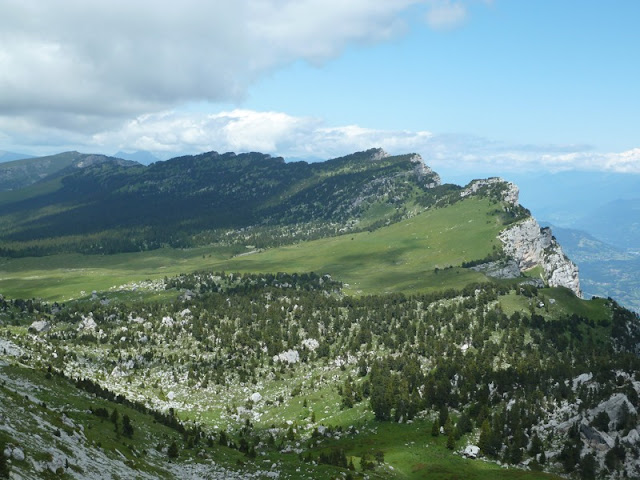 Ridge of the Roche de Bellefont
For the first time all day I now had some relatively easy walking but it was 3.00 and I was no where near half way. After following a long dry limestone valley gently down wards the scenery again became more dramatic and there was a final tough climb before I reached a wide grassy plateau full of cattle. It was now 6.30.
Roc de Bellefont
Upland meadow on the way to Col d'Alpette
The final challenge was an steep descent down to La Plagne. Had already fallen over twice and my legs were like jelly. An absolutely stunning evening I had soon dropped well below the cliffs which looked absolutely brilliant in the setting sun.
Evening sun on the rock face above the Col d'Alpette
Arrived at Gite d'Etape, at about 7.45, got a very quick shower and then had a great meal shared will a table full of French walkers - much more fun and better value than the hotel that charged too much. Great day.