So today I paid for yesterday. Knackered after such a huge walk, today dragged on and although it was only 20 kilometres I was tired and missing turns and contrived to make it another 4 kilometres longer. It was also very hot although I shouldn't complain as the weather forecast for the middle of the week is bad.
If I have got this right, today was my last day in the high Chartreuse crossing the highest part yesterday. By the end of today, and by the time I had reached Les Echelles, I was in gentler countryside, still very pretty but nothing like as dramatic as yesterday.
Today was actually a fairly easy walk, no big climbs or descents although with a bit too much road walking. Essentially a down hill walk to Epernay, a gentle climb out of the valley via le Desert (views of Mont Blanc), and then over the road pass into the next valley. I think the next village was St-Pierre d'Entremont, but can't make it out on the map (got lost there anyway), followed by a huge meander down through a forest (where I got lost again) before emerging via the edge of the splendid Gorge de l'Echaillon into the Les Eschelles valley.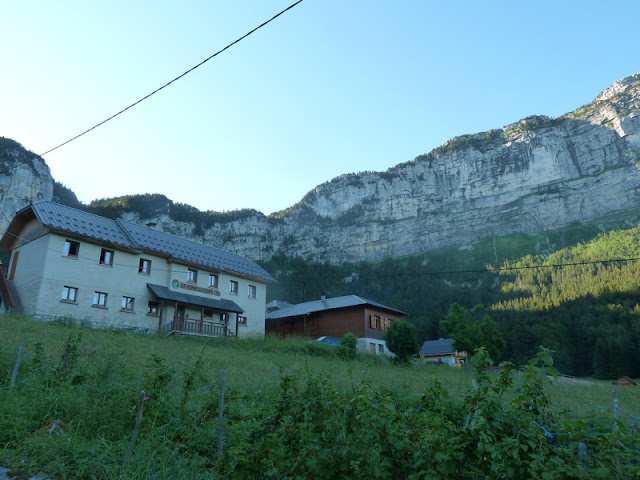 The Gite D'Etape at La Plagne
Across the Valley to La Cochette
Having got to Les Echelles I then discover how far my accommodation was out of town explaining why the host had offered to pick me up when my friend Lesley had made the booking. The sign said three kilometres, I rang them and tried to arrange a pick up point but we couldn't understand each other, so I set of to walk it. Fortunately they then rang Lesley, who rang me with instructions where to wait for them in Les Echelles. Turned out that it was far more than three kilometres, more like six, so I was saved from a hideous end of the day tramp down a busy hot road. Another example of my good fortune (touch wood).