My luck has changed. Have walked to the top of a mountain hoping for great views for once I actually got them. The weather today was perfect and the scenery has been amazing.
Originally planned to go from Lelex to Saint Cergue in Switzerland but it but would have been a mega walk and, as it turned out would have meant rushing a spectacular stretch. Instead a nice leisurely 16 kilometre walk, with 1200 metres of climb, and, if I can find the way, an even more leisurely walk tomorrow.
The basic geography involves a ridge with the valley with Lelex in it to the north, north west, and an altogether bigger valley with Geneva and Lake Geneva in it to the south, south east. Beyond Geneva of course are the Alps.
I say leisurely but the first 40 minutes were really tough. Somehow got into a walking up a hill competition with two Frenchmen and a young French woman. They got right on my shoulder but wouldn't overtake and I wasn't going to stop so off we went. The men cracked after about twenty minutes but the woman was more persistent and only slowed down hill started to level of and after climbing 400 metres. I've been in training for over three months so don't intend to get overtaken now!
Climbing up to the Col de Crozet
Once you got to the top proper the walk took you right along the ridge. Mont Blanc dominated the sky line. I know it's not massive compared to peaks in the Himalaya but it is has a particularly commanding position. It towers above the plain below and dominates the mountains either side of it. Not sure if I was imagining it but I thought I saw its reflection in Lake Geneva.
I really needed an expert with me to tell me what else I could see. Pretty sure that a mountain to the east of Mont Blanc was Grande Combin which Christine and I got close to when we walked the Haute Route seven years ago. For a second I even thought I could see the Matterhorn but I'm sure I was being fanciful.
Lake Geneva and Mont Blanc
Geneva though was clearly visible, you could seen the airport with planes taking of and landing and of course the huge fountain. Funny to think that I was eating perch from the lake in a restaurant just of the beach along from Geneva only a week ago.
Even without the views the ridge itself was a splendid thing. For once I was on top of world and out of the trees. On a Sunday, I was of course sharing it with loads of other walkers but at least it meant that I could get someone to take my photograph.
Amazing views
On the Jura Ridge
With any luck today's views will be repeated many times over the next week. Tomorrow, if I can find it, I join the Crest Way, Switzerland's oldest long distance walk, connecting Geneva to Zurich, and taking me along an arc north of Alps and above the great central valley that runs east west across the country.
And for the very best view of the day the new addition.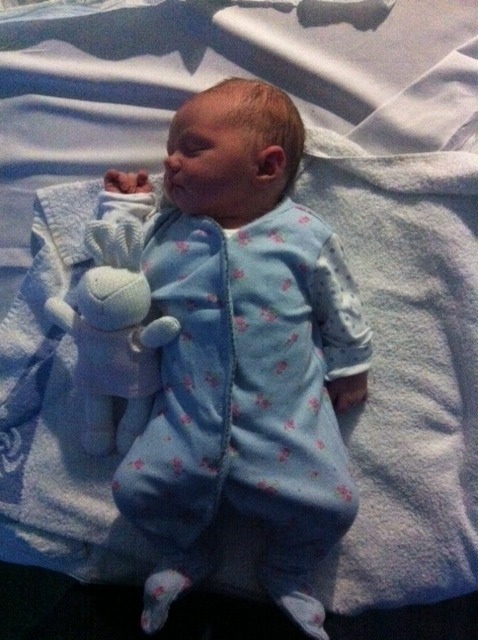 Georgia