So I make three sorts of decision: good ones; lucky ones; dumb ones.
Today was a dumb one. The reason I stayed at Col de la Foucille rather than go down to the much nicer town of Mijoux was because I was going to walk along the ridge I had enjoyed yesterday and join the Jura Ridgeway on Mont Dole. While paying the bill in a very dodgy hotel - first hotel to charge for wifi and full of coach loads of French pensioners having a good time - I noticed a map which suggested that to join the E4 you stay in France longer carrying on with the GR 9 to La Cure.
That bit of information was enough for me and despite preparing for a short day, starting late with minimum water, I set of on a walk of unknown length on a really hot day. Involved leaving the high open ridge, going down the hill to Mijoux, heading in the wrong direction for a while on the other side of the valley, before meandering my way to the border town of La Cure which was still 8 kilometres from Saint Cergue. Ended up walking for 9 and half hours, about 33 kilometres with 1700 metres of climb.
It wasn't a bad walk but true be told I think my original route, walking over Mont Dole, would have been better. Would have spent more time out of the trees with better views. Worse still when I got to La Cure a sign told me I was on the E2 not the E4 so even my extra long walk might have been wrong.
The particular compensations from today was a Chamois grazing just above a ski run as I was leaving Col de la Foucille this morning and the really pretty meadows on top of ridge on the other side of Mijoux. Also got several views of the Mont Blanc but such was the heat today that it was like looking at ghost of a mountain shrouded in the haze.
Up close with an Ibex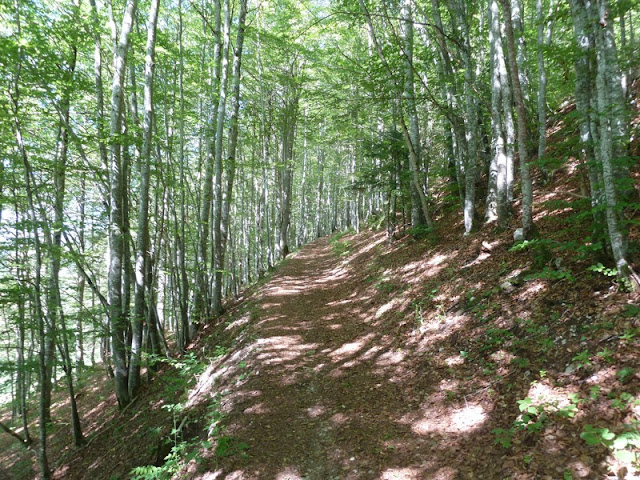 Shady path
Upland pasture
There really is a border crossing at La Cure although I not sure what it's for. When I took the picture below I thought I had crossed from France into Switzerland only to work out shortly after that I had actually crossed the other way and had to go back again.
The border at La Cure
Completely different footpath signs in Switzerland and the white and red markers which I have enjoyed since Tarifa have gone with yellow markers now the predominant colour. Have a good GPS trail while I'm on the Jura Ridgeway but I'm now living totally without maps. After today that might be something I'll end up regretting.
On the GR5 to Saint Cergue
Not sure if the picture below will work but it is supposed to show my route for the next few days.
Jura Crestway