Still walking across a feature called the little Hungarian Plain, so continues to be very flat. Not so many trees today, bit more open, and incredibly hot. Shorter walk, just 22 kilometres, got away from the "castle" hotel in Szelestei by 8, so was in Sarvar in time for a late lunch and an afternoon in the shade.
Castle Hotel
I'm following the blue and white markers, which are brilliant, but also have a GPS trail on my IPhone which I downloaded from from of the Hungarian web sites that specialise on the walk. I don't have any maps and because the route meanders you get a slightly weird feeling just following the signs because it's a very meandering route. You often seem to be going backwards and your sense of direction, which gets mislead especially when your in trees, is constantly telling you something must be wrong. Slight panic just out of Szelestei when the GPS trail conflicted with the signs but of course, in the end, the signs where right.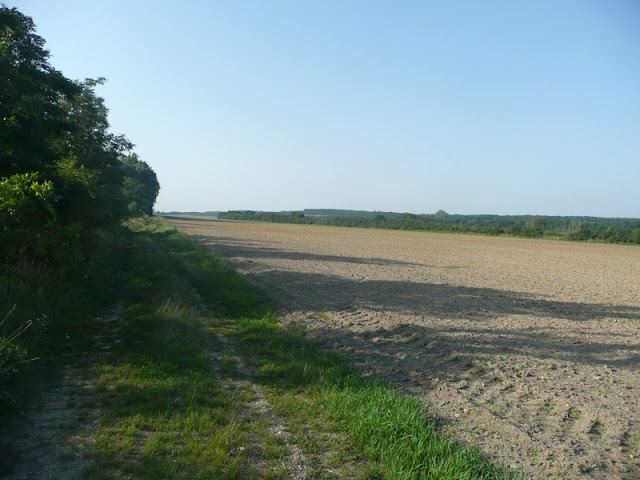 Massive fields
Ploughed footpath
More examples of the huge scale of agriculture here with the fields which seemed to go on to the horizon. The same "farmer" also helpfully ploughed up the footpath (if my farmer brother reads this I know that technically it's "dragged" not ploughed). This sort of landscape definitely has it's attractions and on a cold day in the winter is probably amazing.
Slightly more unnerving is the tendency to use white asbestos debris to line the forest trail. Conscious that I have a number of Hungarian readers at the moment and don't want to cause offence but most English walkers would be seriously put off by even the mention of asbestos.
White Abestos
Saw three Trabant's parked in a line as I walked through the streets of Sarvar: a standard saloon, an estate car and a coupe. The coupe looked the best.
Trabant
Sarvar itself is a spa town, an important tourist destination and has lots of hotels. Like Kozeg it has multi-coloured stucco buildings which are being carefully restored. The central feature however is a castle and my gasthof is right next to it.
Nádasdy Castle
PS. Really Great to hear from you again Nancy and thanks so much for your kind sponsorship. Can't promise to be enjoying every minute but definitely most of them!