The original plan for today was to walk 40k to Alamsee but was suspecting that this was far too ambitous. The return of wet weather after a three day respite was the final excuse needed.
Actually we didn't get up this morning until 9. Slightly disturbed night in the Riederhutte dormitory. After yesterday's walk Christine and I were in bed by 10 but the other two people in dormitory were on the snapps until much later and when they came to bed were whispering and much besides. All in favour of young love but a bit much in the dormitory, and admonishments had to be administered.
It was seriously raining this morning but the view was that the weather would improve by mid-day. We decided to hang around and Christine helped the staff peel apples for a giant apple strudel. It's a strange existence for the staff of the hutte stuck up on top of a mountain with periods of intense activity, when the weather brings out the walkers, and dead time when it's raining.
We finally ventured out in our gortexes at about 12. My plan was that if we could get to Feuerkogel then a cable car ride down to Ebensee would be in order. The rain did lighten around 1 but you still couldn't see a thing.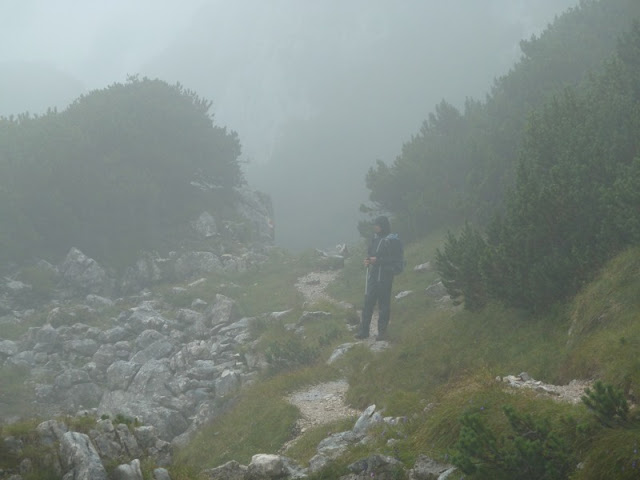 In the rain above Ebensee
It was Christine who, after a nice bowl of goulash soup, wanted to march down the hill rather than take the cable car, and she was absolutely convinced she knew the way. After going up and down the same bit of path three times the cable car was again looking attractive. We were at the top of a series of ski runs and the footpaths signs were chaotic.
Eventually we struck off down the hill vaguely in the right direction and although not entirely confident of the route we managed to find our way. Arrived at Ebensee once more in the rain, but the sun also trying to get through so we enjoyed a lovely rainbow.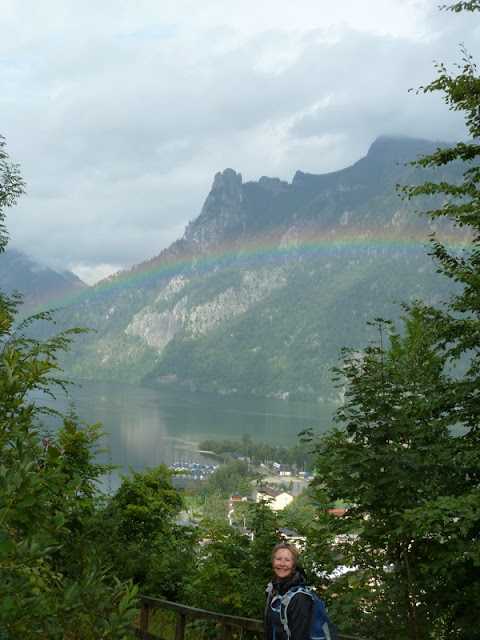 Rainbow above Ebensee
We found the Hotel Post, a traditional family run place with great food and good Austrian wine. Bags have been emptied and everything is spread out to dry.