We think we may have done a tougher walk but at the moment we can't quite remember when. For once the numbers definitely don't tell the story, although they give a clue. 2,000 plus metres of ascent and 10 hours on your feet indicate a big day but it was the non-stop grinding nature of the terrain which made today mega.
Christine woke up with one eye virtually closed, the result of the bee sting from a couple of days ago. Didn't actually slow her down but I was getting sideways looks as Austrian's assumed a domestic incident.
Actually Christine was on top form. The signs said 4 hours 30 minutes to Hochleckenhaus and she was determined to beat the time. Better still there were lots of Austrians making the early morning climb and this meant only one thing, someone to chase and overtake. Firstly a couple, then a single woman, and then the ultimate scalp, three young men.
Attersee
Up and up we went, along ridges with amazing views of Lake Attersee then up again. The first major summit was Brennerin, at 1700 metres, 1300 metres above Weissenbach. Started to get a bit worried that this was no ordinary walk when we looked at the signs after the Brennerin. Despite being the fastest people on the mountain we were only just on schedule. Still 90 minutes to Hockleckenhaus and although no longer climbing the going was really tough, two horrible gullies to cross, but it wasn't just the up and downs that made the going slow, it was the broken terrain.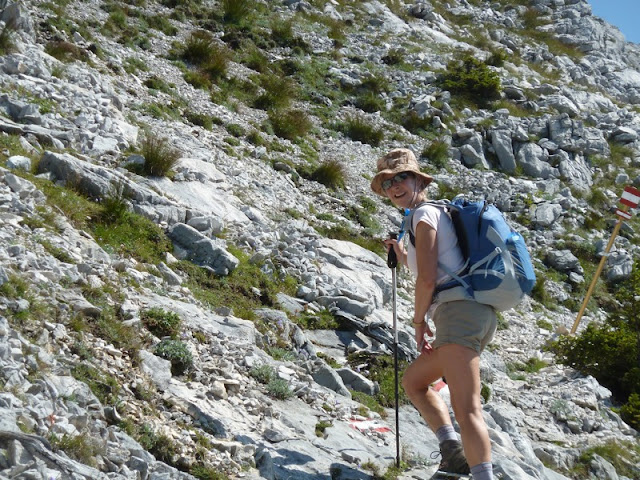 Climbing up to Brennerin
Back to Attersee
On Brennerin
At last we got to the hut at Hockleckenhaus and collapsed on a bench and ate. We were on schedule but had consumed huge amounts of energy. The good news I was hoping for didn't materialise. I had hoped that at least we were half way but no, another five hours to go and that seemed subject to maintaining our mad morning pace. Reider Hutte seemed like a long way away, and we seriously considered calling it quits and staying at Hockleckenhaus.
Christine however wanted to press on, doing nothing all afternoon was too boring. We left the hutte at 2, stuffed with food and fully rehydrated. It was hot and clear but I was worried about the weather. The forecast was rain by mid afternoon.
The tough walking continued but after an initial climb, a sharp drop into a valley, and then a 600 metre pull we were at the top of Grunalmkogel which at 1821 metres was the highest point of the day. It was only 4.30 and it felt like we were making good time. Trouble was, as the forecast had predicted, the clouds were now descending and the prospect of a summer thunder storm on top of a mountain kept the pressure on.
Things then started to slow down. The climb down from Grunalmkogel was really tough. Incised limestone and the extent of drop meant we were scrambling for much of time. It took the best part of an hour to descend 300 metres.
Struggling down Grunalmkogel
Hard work
I had promised Christine that the last bit would be easier but lacked the evidence to back my theory. It couldn't be harder but in it's own way was just as bad. An exposed path set into a limestone cliff and huge drops. Not a time for looking down or even up.
Fortunately this didn't last long and we soon walking along the side of a valley and gently climbing up to what we hoped was the hutte. The signs however were still not telling us how far we had to go, the light was fading, and it looked increasingly like rain. At 6.45pm we heard a helicopter, rounded a final corner, and there was the hutte taking it's bi-monthly aerial delivery.
Special beer drop
So a really tough walk, challenging but all the time the scenery was amazing.
It's hard for people, who inevitably have not got the level of fitness I have built up over many months, to click quickly into my pace of walking and indeed the schedule I have set myself. I thought Christine was just amazing today and was very proud of her.
Christine adds: what a tough day. Am exhausted and feet and knees are killing me. The best thing about the last 11 hours was hearing the helicopter and knowing we must be getting near the Reider Hutte. Tomorrow is supposed to be a lot easier and we're hoping we don't get rain; there was a sharp shower this evening just after we arrived here and it's still cloudy.